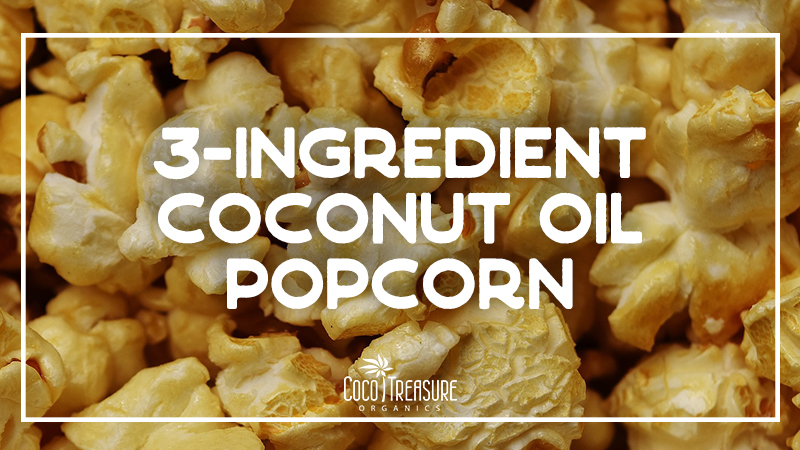 2 tablespoons Coco Treasure Organics Extra Virgin Coconut Oil
¼ cup popcorn kernels
Sea Salt
Prep. Time → 6 min
Cook Time → 6 min
1. Prepare a pan with a lid. The size of the pot is very important. Take into account that when a corn kernel pops it expands to more than twice its size. It would also help if the pan is light enough that when the kernel starts popping it would not be tiresome for you to move the pan as you go along.
Put 2 tablespoons of coconut oil into the pot along with 2 kernels of popcorn.
Close the lid. Set the heat to medium and give it a couple of shakes to soak the popcorn kernels in coconut oil.
Upon hearing two pops from the kernels, it means that the pan is at the right temperature for the kernels to pop. Pour in the rest of the ¼ cup of popcorn kernels. And turn the heat on high. As soon as the rest of the kernels stop popping, keep shaking the pan for a minute or two this will allow most of kernels to reach the bottom of the pan where the optimal temperature for popping is due.
Make sure the rest of the kernels have popped not waiting too long that the rest may start to get burned. Once done, pour popcorn into the container.
Add sea salt to the popcorn to taste. Sea salt is the key to this recipe because it differs from your usual table salt. Sea salt is produced naturally by evaporating ocean water from salt water lakes, with a little processing the refine the end product. Table salt on the other hand is processed from underground salt deposits and is manufactured with additives.
The last step? Enjoy alone or with friends!
coco treasure organics, coconut oil, food, popcorn, recipes, snacks, coconut oil popcorn March 05, 2018 02:00
Author https://cocotreasure.com/recipes/coco...
Share the recipe with your friends
No one has liked this recipe.
0 comments