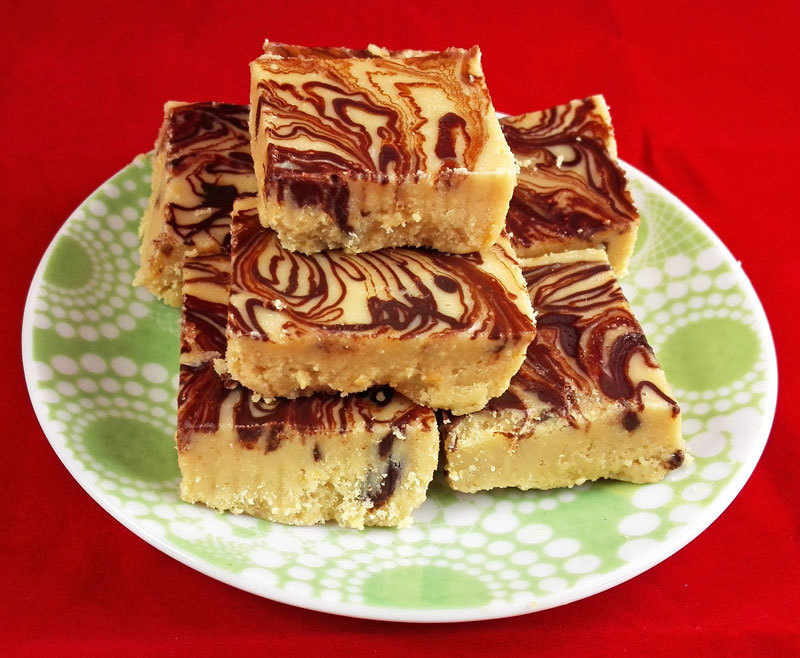 3 tablespoons of cocoa butter
4 tablespoons of peanut butter
2 tablespoons of powdered sugar (or other sweetener of your choice)
1 row of chocolate or 20 g / 0.7 oz of chocolate chips (vegan)
Prep. Time → 10 min
Cook Time → 0 min
1. Melt the cocoa butter, add the sugar and mix well.
2. Then, add the nut butter and mix again.
3. Pour the mixture into the container you chose. Since I used a plastic box, I covered it with plastic wrap in order take out the fudge easily.
4. Melt the chocolate and pour it in a very thin stream all over the peanut butter mixture. Take a toothpick and swirl it around.
5. Put the fudge in the freezer for a few hours or until it hardens completely. Cut it and enjoy!
desserts, chocolate, chocolate fudge, dairy-free, dessert, fudge, no bake, peanut butter, peanuts, plant-based, raw, sweets, vegan, glutem-free, peanut butter fudge, vegan fudge February 10, 2017 17:10
Author MyHealthyDessert (myhealthydessert.com/dairy...)
Share the recipe with your friends
No one has liked this recipe.
0 comments