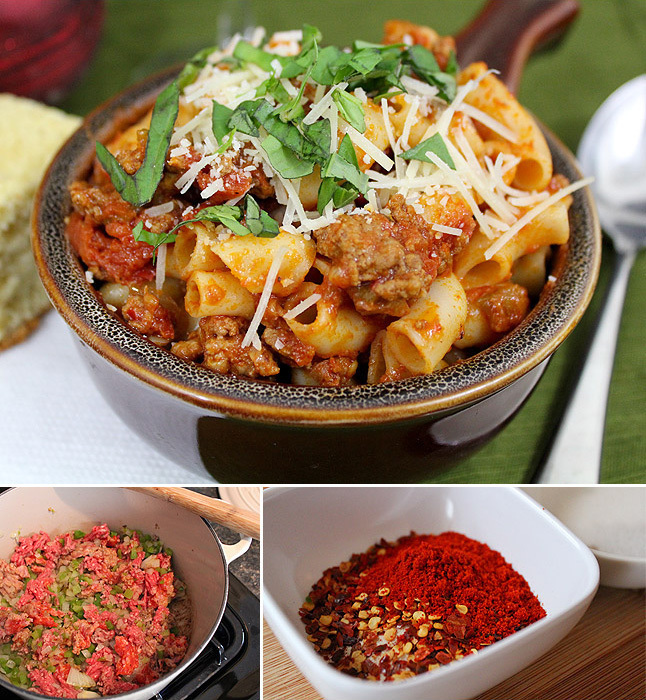 Ingredients
for American Chop Suey
3 tablespoons olive oil
1 medium yellow onion, finely chopped
1 green pepper, seeded and finely chopped
1 lb 80/20 ground beef
1/2 pound hot Italian sausage, ground
2 teaspoons garlic powder
2 teaspoons onion powder
1 teaspoon paprika
2 teaspoons crushed red pepper flakes
1 28-ounce can whole peeled tomatoes
2 15-ounce cans tomato sauce
2 tablespoons tomato paste
1 1/2 teaspoons sugar
1/4 teaspoon ground cinnamon
1 lb box "Large Elbow" macaroni
Salt and pepper, to taste
Grated Parmesan cheese, to garnish
1. Heat olive oil in a large pot over medium-high heat. Add onion and green pepper, and cook until just softened, about 8 minutes. Add ground beef, ground sausage, garlic powder, onion powder, paprika, red pepper flakes, and salt and pepper. Cook, stirring occasionally, until lightly browned, about five minutes. Add whole tomatoes (and juice), crushing the tomatoes with your hands as you add them. Wear an apron. Add the tomato sauce, tomato paste, sugar, and cinnamon, and stir well. Bring to a boil, then reduce heat, and simmer, uncovered, stirring occasionally, until sauce thickens, about an hour. While sauce cooks, cook pasta according to package directions, reducing the cooking time by two minutes. Drain pasta, and rinse with cold water. Transfer macaroni to pot of sauce, and stir. Adjust salt and pepper, and cook everything together until flavors combine, about 10 more minutes. Serve with grated Parmesan cheese and hot, buttered Sourdough toast.
main courses December 29, 2011 01:20
Author fromaway.com/cooking/class...
Share the recipe with your friends
No one has liked this recipe.
2 comments