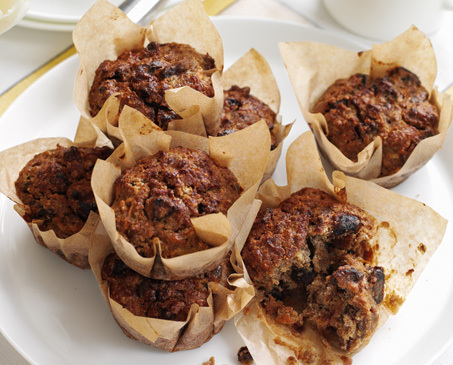 Ingredients
for 8 Muffins
50g butter
100g wholemeal flour
40g muscovado sugar
1 1/2tsp baking powder
120g dried, unsweetened, chopped dates (or raisins, fresh raspberries or blackberries depending on the season)
Handful of bran flakes
Half a handful of oats.
1tsp cinnamon
1 eating apple
1 beaten egg
100ml soya milk
Some lemon, lime or orange zest
Prep. Time → 10 min
Cook Time → 25 min
1. Preheat oven to 180C/350F/gas mark 4. Line a muffin tin with 8 muffin paper cases or greaseproof paper.
2. Rub the butter with the flour to make crumbs. Add the sugar. Stir in baking powder, dates (or other), bran flakes, oats and spice.
3. In a separate bowl, grate the apple, including the peel, down to the core and combine with the beaten egg, milk and zest. Tip the wet mix into the dry mix and stir until just combined. You may need to add a splash more milk.
4. Spoon the mix into the prepared muffin tins and bake for 25 - 30 mins until they are cooked through and golden on top. To test, insert a knife and check that it comes out clean.
desserts, apple, breakfast, cake, dates, healthy, muffin, seasonal, vegetarian, zesty June 06, 2012 20:19
Author Zest Magazine