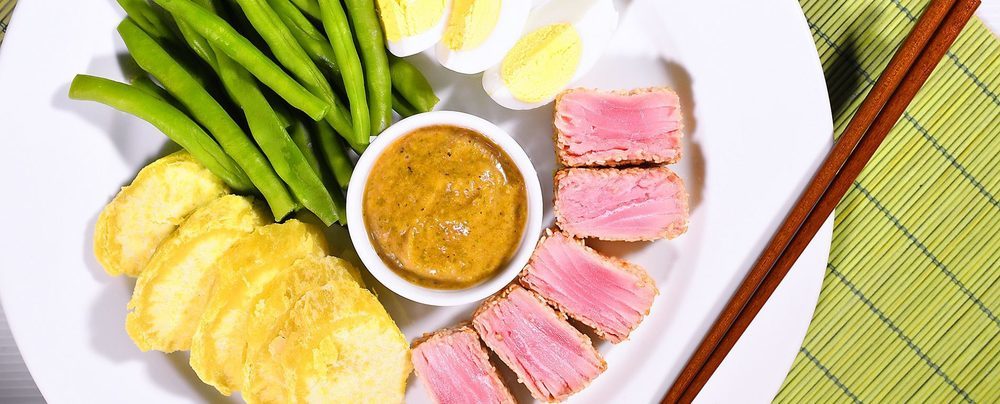 Ingredients
for 2-4 servings
250g/8.75oz saku bar (sashimi-grade tuna)
30g/1oz sesame seeds
¼ tsp. salt
15ml/0.5fl oz olive oil
200g/7oz sweet potatoes
200g/7oz green beans
2 eggs
For the Asian Dressing

25ml/1fl oz olive oil
25ml/1fl oz sesame oil
7g/0.25oz sesame seeds
15ml/0.5fl oz lemon juice
5g/0.25oz coriander/cilantro, rough-chopped
10g/0.33oz shallots, rough-chopped
½ tsp. black peppercorns
25ml/1fl oz honey
10ml/0.33fl oz soy sauce
Prep. Time → 15 min
Cook Time → 25 min
1. Boil the sweet potatoes until fork tender. Peel and cut into bite-sized pieces. About 20 minutes.(Depends on size)
Blanch the green beans until al dente. Drain and set aside.(About 3 minutes)
Boil the eggs.(8 minutes for wax-stage/10 minutes for hard-boiled). Cut into wedges.
Blend all ingredients for the dressing in a blender.
Season tuna with salt on both sides.
Crust the tuna with sesame seeds on all sides.
Heat olive oil in a skillet.
Sear the tuna for 30 seconds per side.
Slice the tuna into ¼" pieces.
Arrange sweet potatoes, eggs, green beans, tuna slices, and dressing on a platter.
main courses, dairy-free, dinner, gluten-free, lunch, nut-free, recipes September 21, 2017 12:43
Author mynutricounter.com/asian-s...
Share the recipe with your friends
No one has liked this recipe.
0 comments