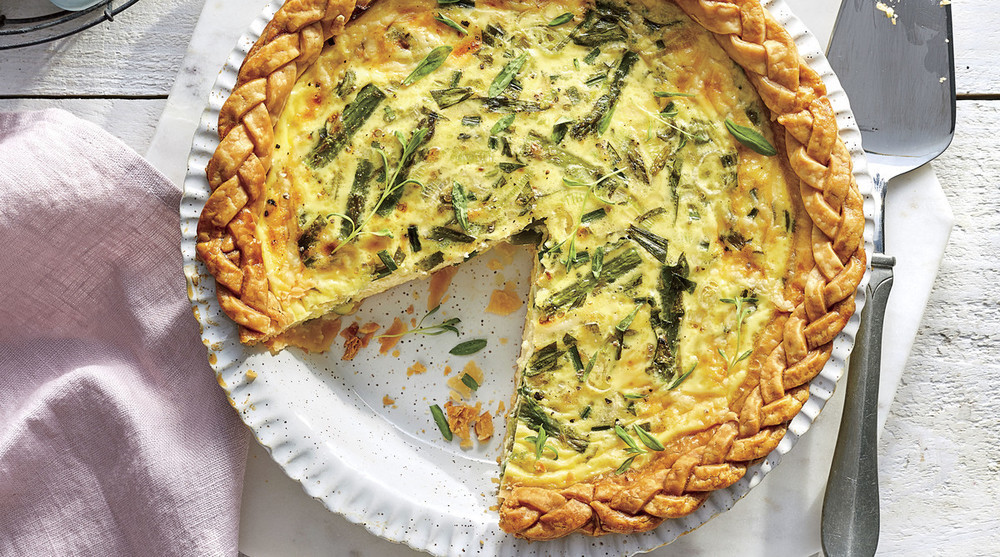 1 large egg white, lightly beaten
1 (14.1-ounce) package refrigerated pie crusts
1 tablespoon butter
3/4 cup thinly sliced spring onions (from 1 bunch)
4 ounces asparagus, trimmed and cut into 1-inch pieces (about 1 cup)
1-1/2 teaspoons kosher salt, divided
4 ounces Gouda cheese, shredded (about 1 cup)
4 large eggs
1-3/4 cups half-and-half
2-1/2 teaspoons chopped fresh tarragon, divided
1/2 teaspoon black pepper
1 tablespoon chopped fresh chives
Prep. Time → 30 min
Cook Time → 135 min
1. Whisk together egg white and 2 teaspoons water. Unroll 1 piecrust; fit inside a 9-inch pie plate. Trim excess dough around edge. Brush dough edge with some of the egg-water mixture.
2. Unroll remaining piecrust; cut into 1⁄2-inch-wide strips. Pinch the 3 longest strips (from the center) together at 1 end to seal; braid. Repeat process twice, with 3 strips each from left and right of center, making 3 braids total, each about 7 inches long. (Discard remaining dough.)
3. Preheat oven to 425°F. Press braids gently onto the dough edge. Brush braided dough with remaining egg-water mixture. Freeze 20 minutes. Place parchment paper over frozen piecrust, and top with pie weights. Bake until crust is lightly golden and set, about 10 minutes. Remove weights and parchment; continue baking until crust is fully dry, about 5 minutes. Cool on a wire rack, about 30 minutes.
4. Reduce oven temperature to 350°F. Melt butter in a large skillet over medium-high. Add spring onions, asparagus, and 1⁄2 teaspoon of the salt. Cook, stirring often, until very soft, about 8 minutes. Remove from heat; cool 5 minutes.
5. Spoon onion-asparagus mixture into cooled piecrust; sprinkle with cheese. Whisk together eggs, half-and-half, 2 teaspoons tarragon, pepper, chives, and remaining 1 teaspoon salt. Pour over vegetable mixture. Bake at 350°F until middle is nearly set, about 40 minutes. Cool 30 minutes. Sprinkle with remaining 1⁄2 teaspoon tarragon.
main courses, asparagus, breakfast, quiche April 11, 2019 14:27
Author https://southernliving.com/recipe...
Share the recipe with your friends
No one has liked this recipe.
0 comments