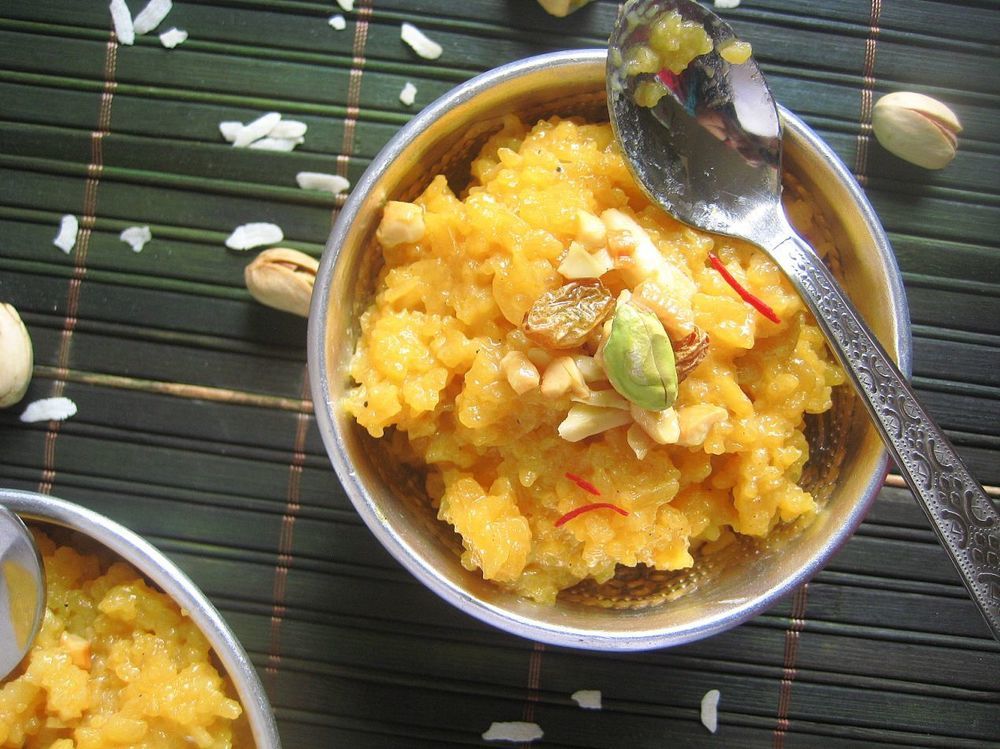 Ingredients
1 cup poha/aval/beaten rice
2-1/2 cup sugar
1 teaspoon cardamom powder
pinch Aof salt optional
2 tablespoons ghee
6 to 7 cashews
Prep. Time → 10 min
Cook Time → 15 min
1. To begin making the Aval Kesari recipe, in a wok/kadai, add aval and dry roast for about 5 minutes. Ensure the aval turns light brown but not burnt
Cool the roasted aval and grind into a powder similar to the consistency of rava.
Meanwhile, add water in a small pot and bring it to boil
Heat a pan and add a tablespoon of ghee.
Once the ghee melts, add powdered aval and combine them well.
Add boiling water slowly to the aval stirring it continuously and cook over low flame. Once the aval is cooked, it won't stick to the bottom of the pan.
If the aval is touched with wet hands, it won't stick to your hand. This ensures complete cooking of aval.
Add sugar to the rava and cook until the sugar dissolves completely.
Finally, add ghee and roasted cashews to the Kesari and remove from the flame.
Serve Aval Kesari during the festivals along with Masala Vada on the sides for your guests.
desserts, aval, dessert, recipe, sweet, kesari February 07, 2018 07:55
Author https://hungryforever.com/recipe/...
Share the recipe with your friends
No one has liked this recipe.
0 comments