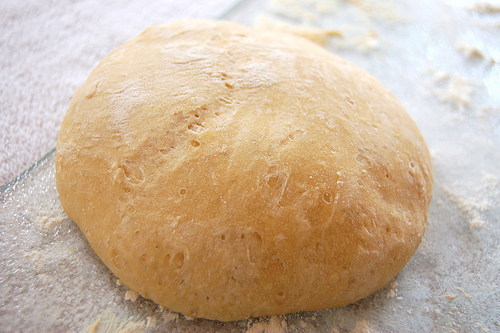 Ingredients
for 2 medium pizzas
2 1/4 tsp Active Dry Yeast
1/2 tsp brown sugar
1 1/2 Cup Warm (100 - 110 degrees F)
1 tsp Salt
2 Tbsp Olive Oil
3 1/3 - 4 Cups Bread Flour
1/2 tsp Garlic Powder
1/2 tsp Oregeno
Prep. Time → 15 min
Cook Time → 15 - 20 min
1. 1. Dissolve Brown Sugar in water; Dissolve Yeast in water, let stand 10min. Should get bubbly and frothy. Fun part for kids to watch as the yeast wakes up and divides. if yeast doesn't wake up enough, add another 1/2 tsp of brown sugar to get it happy.
2. 2. Stir Salt, Oil, Garlic Powder and Oregeno in Yeast liquid
3. 3. Mix in 2 1/2 to 3 Cups of bread flour, enough flour so the dough is not sticky.
4. 4. Turn out the dough on a floured surface, adding flour as needed to get the dough to be not sticky at all.
5. 5. Sprinkle a little bit of Olive oil into a large bowl, spread the oil around to cover the inside of the bowl. Form Dough into a ball and place in the large bowl to rise for 1 hour. I like to put it in the oven on the top rack (with the oven OFF) with a casserole pan filled with very hot water on the bottom of the oven. This keeps the dough from drying out and keeps the temp yeast happy in the oven. You can also cover the bowl with a towel that was soaked and rung out with hot water. Dough should double in size, really it needs to double.
6. 6. Punch dough down on floured surface, split into two balls, one for each pizza. Spread each dough ball out into a pan of your choosing, smaller pan for thicker crust. Top with your favorite sauce and toppings.
7. 7. Bake at 425 degrees F for 15 - 20 minutes.
8. Variations:
Some times i'll sprinkle a little bit of parmesian cheese and/or crushed red pepper flakes at step 2 to add some punch to the dough flavor.
9. Storage:
You can store the uncooked dough in a ziplock type bag in the refrigerator for several days. I like to double the batch up and prep the dough ahead of time. Keep in mind the dough will continue to rise in the refrigerator although significantly slower. I sprinkle a little flour in the bag before i put the dough in and shake it up to put a light coating of flour in the bag, this helps keep the dough from sticking. A little olive oil would do the same job.
main courses, pizza May 24, 2011 22:02