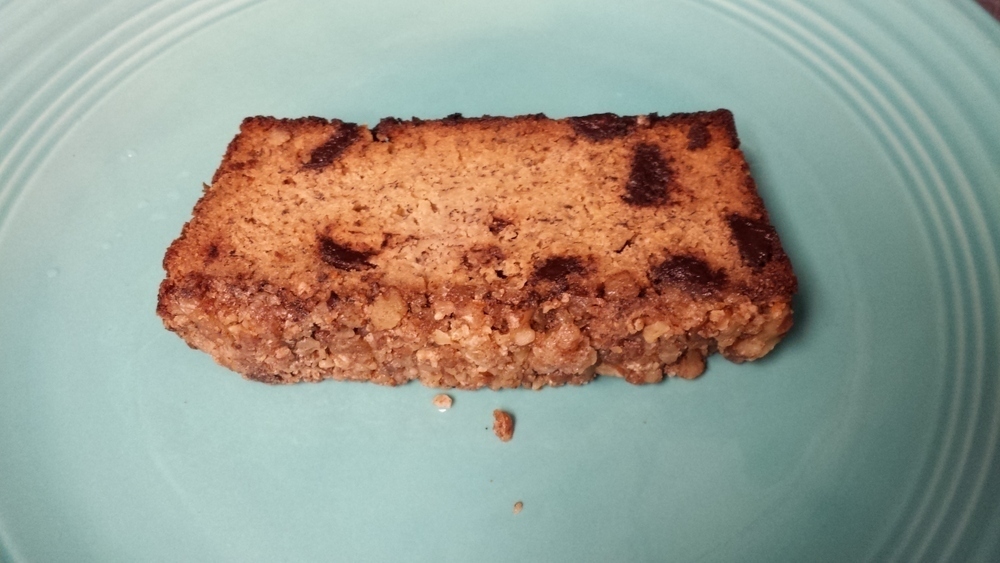 Ingredients
for 10 servings
4 over ripe bananas
1/2 cup coconut oil
4 eggs
1 tsp vanilla
1/2 tsp salt
1 tsp baking soda
1 cup almond flour
1 cup coconut flour
1/2 cup walnuts
7 1/2 cup Chobani plain greek yogurt
2 1/2 cup, frozen blueberries
1. Grease a 9x5 - inch loaf pan.
Preheat oven to 350 degrees.
Mix wet ingredients together in order listed.
Combine dry ingredients, and mix into wet ingredients.
Mix in chocolate chips if desired.
Lightly press dough into pan.
Sprinkle walnuts on top evenly, and press into dough.
Bake for 1 hour, turn off oven heat, and leave pan in oven 15 more minutes.
Remove pan from oven, cool bread in pan, slice into 8 slices.
Serve warm as is, or toast slice on side in toaster oven, and spread with butter.
Keeps several days unrefrigerated.
Freeze slices individually wrapped or bagged for quick and easy single-serving breakfast/snack.
2. Eat each serving of bread with 3/4 cup plain Chobani greek yogurt and 1/4 cup thawed (or fresh) blueberries. You may add honey if you need to.
3. calories 446
Total Fat 24
Total Carbohydrate 34 g
Protein 24 g
4. This is about 3 and a half blocks. Enough to be super filling for an average sized active female, or not quite enough for an average sized active male.
breakfast September 29, 2015 18:15