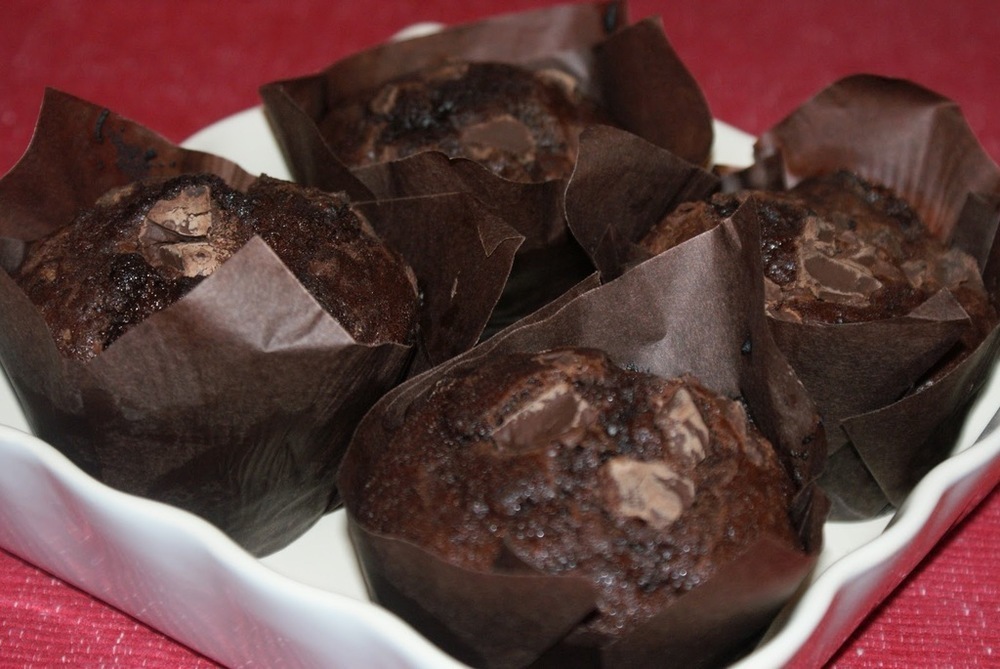 Ingredients
for 12 large muffins
165g butter, softened
300g caster sugar
2 tsp vanilla extract
3 eggs, large
70g self raising flour
200g plain flour
1tsp bicarbonate of soda
70g cocoa powder
225ml milk
25ml malt vinegar
Prep. Time → 20 min
Cook Time → 20-25 min
1. Start off by measuring out the milk in a jug, add the 25ml of malt vinegar, give it a quick stir and leave it to stand until later.
2. Cream together the butter and the sugar.
3. Add the vanilla extract and eggs and beat together well.
4. Weigh out all the dry ingredients into a bowl together, I don't sift them it doesn't seem to make a difference with this recipe - add them all to the mix.
5. Now add the milk/vinegar combo and give the whole lot a really good mix up.
6. Chop some extra chocolate and sprinkle the chunks on the top.
7. Cook at 160c Fan/180c/Gas Mark 4 for 20mins or until skewer placed through the middle comes out clean.
desserts, cake, chocolate, cupcakes, muffins July 13, 2011 10:21
Author Ruth Clemens - The Pink Whisk - tiny.cc/cdscw