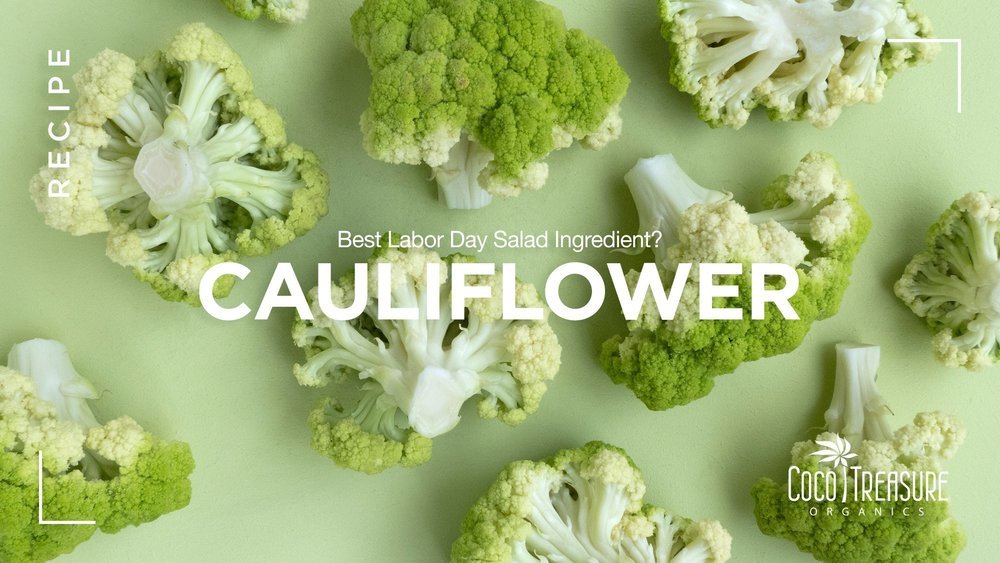 Ingredients
1 lb. cauliflower, cut into bite-size pieces
2 tablespoons Coco Treasure Organic Coconut Oil
2 tablespoons grated parmesan
1 tablespoon sundried tomatoes in oil, minced
1 tablespoon Italian parsley, chopped
½ cup diced fresh tomatoes, seeds and pulp removed
½ cup Kalamata olives, sliced
¼ teaspoon onion powder
¼ teaspoon sea salt
1/8 teaspoon white pepper
¼ teaspoon garlic powder
¼ teaspoon smoked paprika
Prep. Time → 5 min
Cook Time → 10 min
1. Place cauliflower in a covered microwavable bowl, and cook on high for 10 minutes.
2. While cauliflower is cooking, chop and slice the remaining ingredients as needed.
3. Remove as much water as possible from the cooked cauliflower. Try spinning it in a salad spinner or putting it in a mesh strainer and applying pressure with a large spoon. A third method is to place the cauliflower in a clean dishcloth and wring it out.
4. Microwave the dry cauliflower for 30 seconds to reheat.
5. Place the hot cauliflower in a large bowl, and toss with the coconut oil until the oil is melted and coats all the cauliflower. Add the remaining ingredients, and stir to mix.
6. Serve our 15-Minute Cauliflower Salad warm, at room temperature or chilled. You decide! Either way, it's delicious.
side dishes, cauliflower, salad recipe, side dish, labor day salad, labor day recipe December 19, 2017 05:36
Author https://cocotreasure.com/recipes/best...
Share the recipe with your friends
No one has liked this recipe.
0 comments