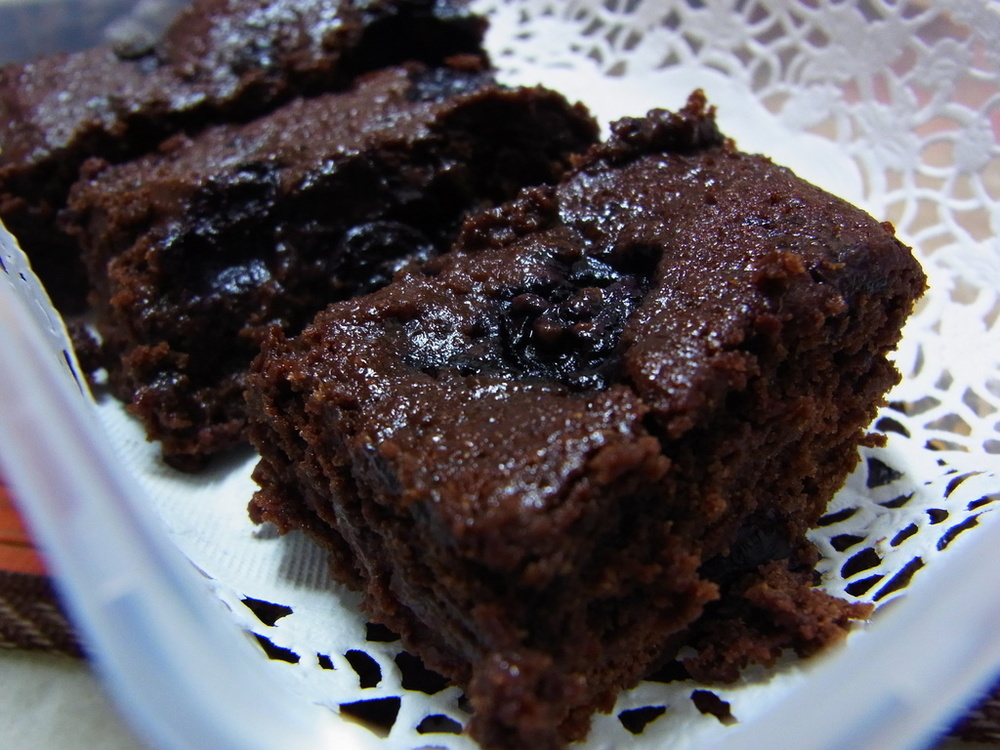 Ingredients
for 12 pieces depending on how you cut it!
*Adapted from Post Punk Kitchen Raspberry Truffle Brownies
4 oz unsweetened chocolate (I used Lindt, 70% cacao)
1/2 cup blueberry jam (Smuckers Blueberry Jam)
1/2 cup sugar
1/2 cup unsweetened applesauce
3 teaspoons pure vanilla extract*
1 1/2 cups whole wheat flour
1/4 cup unsweetened cocoa powder
1/4 teaspoon baking powder
1/2 teaspoon baking soda
1/4 teaspoon salt
1 cup frozen blueberries (DOLE frozen fruit)
*Post Punk Kitchen called for 1 tsp almond extract but I'm not a fan so one more tsp vanilla :)
Prep. Time → 20 min
Cook Time → 20 min
2. Line an 8 inch pan with parchment paper and lightly mist with non-stick cooking spray. Set aside.
3. Melt the chocolate in either a double boiler or the microwave. Set aside.
4. In a large mixing bowl, vigorously mix together the jam, sugar, and apple sauce.
5. Stir in the vanilla extract and melted chocolate.
6. Sift in the flour, cocoa powder, baking powder, baking soda and salt bit by bit.
7. Mix very well until a thick, gooey dough forms. (see image)
8. Take frozen blueberries out from the fridge and fold into the dough.
9. Spread the mixture into the prepared pan. It will be very thick, you'll probably need to use your hands to evenly spread the batter. (The blueberries won't burn so it's okay to leave them exposed on the top.)
10. Bake for 20 minutes, they should still be soft and gooey. If a tester toothpick comes out clean, they're overbaked. (However, if you like your brownies crustier, go ahead!) Remove from oven and let cool completely. These taste especially good and fudgy after being refrigerated for a few hours.
desserts, blueberry, brownies, chocolate, vegan October 30, 2012 11:19
Author theppk.com/
Share the recipe with your friends
No one has liked this recipe.
0 comments