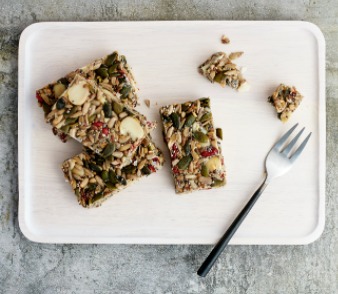 Ingredients
for 10-12 bars
1 1/2 cups sunflower seeds
3/4 cup pepitas
1/4 cup goji berries (I substituted chopped dried figs; apples and a few craisins)
1/4 cup sesame seeds
1/4 cup cacao nibs (optional - I left these out)
1/4 white chia seeds
1/4 cup linseeds (I didn't have these either)
1/2 cup honey or rice malt syrup
1/3 cup tahini, cashew butter or other seed butter
40g cacao butter (1 1/2 oz) - melted. I used Nuttelex but it prevented it setting. Use the right one next time.
1. Place all ingredients in a bowl and mix with wooden spoon until combined.
2. Line a slice tray with baking paper or alfoil and spread the mixture in the pan.
3. Refrigerate and cut into bars when it's set. It'll keep in the fridge for up to 2 weeks.
appetizers, breakfast, ketogenic, nuts, vegan January 28, 2018 05:52
Author Bliss Bites by Kate Bradley ISBN 9781743793572 Page 110