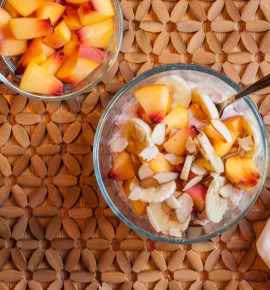 Ingredients
for 4 servings
2 cups 0% - Fat Greek Yogurt
1 1/3 cups Low-fat Cottage Cheese
4 tsps Pure Vanilla Extract - Or Your Favorite Flavor
4 tsps Extra Virgin Olive Oil
3/4 cup Old-fashioned oats
6 tbsps Almonds - Slivered or Chopped
2 1/2 cups Peaches - Frozen, Thawed, Chopped
2 cups Blueberries - Fresh or Frozen
Allspice to Taste - Or Pumpkin Pie Spice
1. The night before blend together yogurt, cottage cheese, vanilla extract and extra virgin olive oil. Refrigerate overnight. (if you like soft oats add them the night before.) Let your fruit thaw in a low-spread bowl overnight. Mix in the fruit along with the rest of the ingredients and enjoy!
2. You may add a bit of honey if this is too tart for you.
3. Pro-tip: make this all in a mason jar if you eat your breakfast at work. You may have to make it into the 4 different servings at the time. Easy transportation and you can warm the whole thing up in the microwave when you get there.
4. Calories329
Total Fat10g
Carbohydrates34g
Protein25g
5. This is a 3 and a half or so block meal. Enough to be super filling for an average sized active female.
breakfast September 28, 2015 19:19