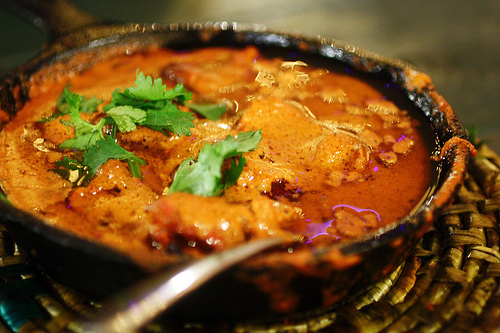 Ingredients
for 2-4 people
1 tbsp oil
seeds, mustard, cumin, etc. (Optional)
half an onion, diced
2 cloves of garlic, diced
2 tsp curry powder
1 tsp each of dried ginger, coriander and cumin
3 chicken thighs, diced
1 400g can of diced tomatoes
1/4 cup of cream or evaporated milk
1 tbsp of tomato paste
150g of plain yoghurt
1 tsp salt
2 tsp garam marsala
Prep. Time → 10 min
Cook Time → 20 min
1. Put a tbsp of oil in the pan and heat up the seeds.
2. Add the diced onion and garlic and cook for a few minutes until the onion becomes translucent.
3. Add the curry powder, ginger, coriander and cumin to the onion and stir. Then add the chicken and cooked until no longer pink.
4. Pour in the can on tomatoes and the stir in the cream as well. Add in the tomato paste and stir. Let simmer for about 10 minutes.
5. Finally add in the remaining ingredients. Stir and serve with rice and naan.
main courses October 14, 2011 20:37