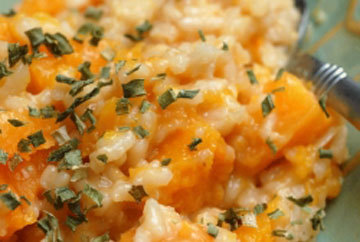 300g of arborio rice
1 onion, finely diced
1 medium / large butternut squash
Two tbsp of olive oil
200g Stilton cheese, crumbled
80ml single cream
10g of salted butter
1 1/2 pints of boiling water
2 tsp of vegetable bouillon powder
Pinch of sea salt
2 good grinds of black pepper
2 tsps fresh or dried oregano
Two handfuls of rocket leaves
2 tsps lemon juice
Prep. Time → 10 min
Cook Time → 45 min
2. Cut the butternut squash in half lengthways and scoop out the seeds and stringy seed casings from the hollows of each half
3. Oil a large baking tray or roasting tin and sprinkle with a pinch of salt. Place the butternut squash, cut sides down, onto the tray and bake in the oven for around 40 minutes (until the skin slides off the flesh when you prod it!)
4. Meanwhile, heat a tbsp of olive oil in a heavy-bottomed pan (avoid thin-based non-stick if at all possible).
5. Add the onions and fry over a medium heat until just soft, then add oregano and fry for 2 minutes.
6. Prepare the stock by adding the bouillon powder to the boiling water along with the remaining sea salt.
7. Then add the dry arborio rice and stir into the hot onion and oregano mixture. Leave it in the hot pan and wait until you can hear the rice making a very gentle popping sound.
8. Add a ladle-full of stock to the rice and stir until it is absorbed by the rice. Continue to to do this until the rice is al-dente and it has become a thick creamy mass.
9. Stir in the crumbled stilton until it melts. Add the butter and cream, stir in and then take off the heat.
10. Taking the butternut squash out of the oven, turn each of the halves over (wearing oven gloves!).
11. Then scoop teaspoonfuls of the softened squash flesh out of the skins and add to the risotto mixture.
12. Gently stir through and serve on a bed of rocket, sprinkled with lemon juice.
main courses April 05, 2013 18:46