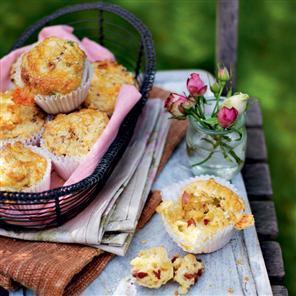 Ingredients
for Makes 14 standard or 24 mini muffin
360g self-raising flour
1 tbsp caster sugar
½ tsp salt
100ml vegetable oil
2 large free-range eggs
300ml buttermilk
100g pancetta, finely diced
80g mature Cheddar, diced, plus extra, grated, to sprinkle
5 spring onions, sliced
Prep. Time → 20 min
Cook Time → 20 min
1. Preheat the oven to 180°C/fan160°C/gas 4. Line two muffin trays with 14 paper cases (or a mini muffin tray with 24 small cases).
2. Sift the flour, sugar and salt into a large bowl. Whisk together the oil, eggs and buttermilk, then fold into the flour.
3. Fold in the pancetta, Cheddar and spring onion. Don't over-mix.
4. Divide the mixture evenly among the muffin cases.
5. Sprinkle over the extra grated Cheddar, then bake for 18-20 minutes until risen, golden and springy to the touch.
6. Allow to cool slightly before serving.
appetizers, pancetta, cheese, muffins, savoury muffins September 27, 2011 11:54