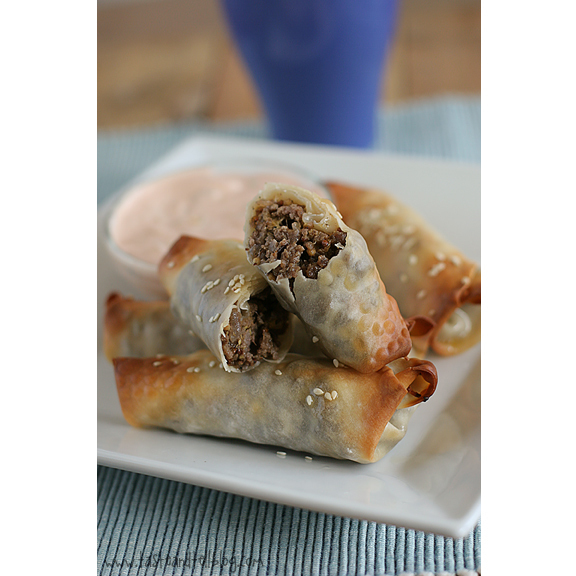 Ingredients
for 15 egg rolls
extra virgin olive oil, for drizzling
1/2 small red onion, chopped
3/4 pound ground beef
salt and pepper
1 cup grated sharp cheddar cheese
1 tablespoon Worcestershire sauce
1 tablespoon grainy Dijon mustard
12-14 eggroll wrappers
water
cooking spray
sesame seeds
Russian Dressing Dipper
1 cup sour cream
2 rounded tablespoons pickle relish
1/4 cup ketchup
salt and pepper, to taste
1. Heat the oven to 375F. Place a cooling rack on top of a baking sheet; set aside.
Heat the olive oil in a large saute pan. Add the onions and let sweat. Add the ground beef and cook, breaking up into small pieces as it cooks. Season with salt and pepper. Cook until no longer pink. Drain, if needed, and set aside to cool. Once the meat is cool, add in the cheese, Worcestershire sauce and mustard.
To make the eggrolls, brush all 4 edges of an eggroll wrapper with water. Place 1/3 cup of the meat mixture on the center of the wrapper. Fold 2 corners into the center, then wrap the other corner to the next, rolling to make a long skinny roll. Place on the prepared baking sheet, repeating until all the filling has been used. Spray the rolls with cooking spray and then sprinkle with sesame seeds.
Bake in the preheated oven for 20-25 minutes, or until lightly browned.
To make the Russian Dressing Dipper:
Mix all ingredients in a medium bowl and season to taste with salt and pepper. Serve with the Cheeseburger Eggrolls.
appetizers December 29, 2011 21:14