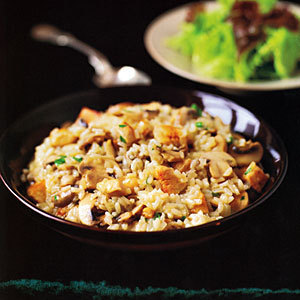 5 chicken breasts, chorizo, 1 large onion, 6 mushrooms, 500g arborio risotto rice, chicken stock, parmezan
Prep. Time → 10 min
Cook Time → 30 min
1. Cut chicken and chorizo into pieces and fry in a little oil.
2. Once cooked, take out of pan and put onto a plate.
3. Fry diced onion, sliced mushrooms and all the arborio rice for roughly a minute, until rice is slightly browned (this helps thicken the risotto and make it more creamy)
4. Pour in enough chicken stock to cover by about 2cm, and bring to a strong simmer. Keep stirring the risotto as often as possible, (i'd say 30 seconds out of every minute)
5. Once it has boiled down so the rice is showing through the stock, add more chicken stock so it covers it again, and boil down.
6. Do this one more time, add generous amount of parmezan and stir through.
7. Add salt and pepper to taste, and keep repeating stock stage until rice is the right texture for you.
main courses, chicken, chorizo, rice, risotto December 05, 2011 15:45