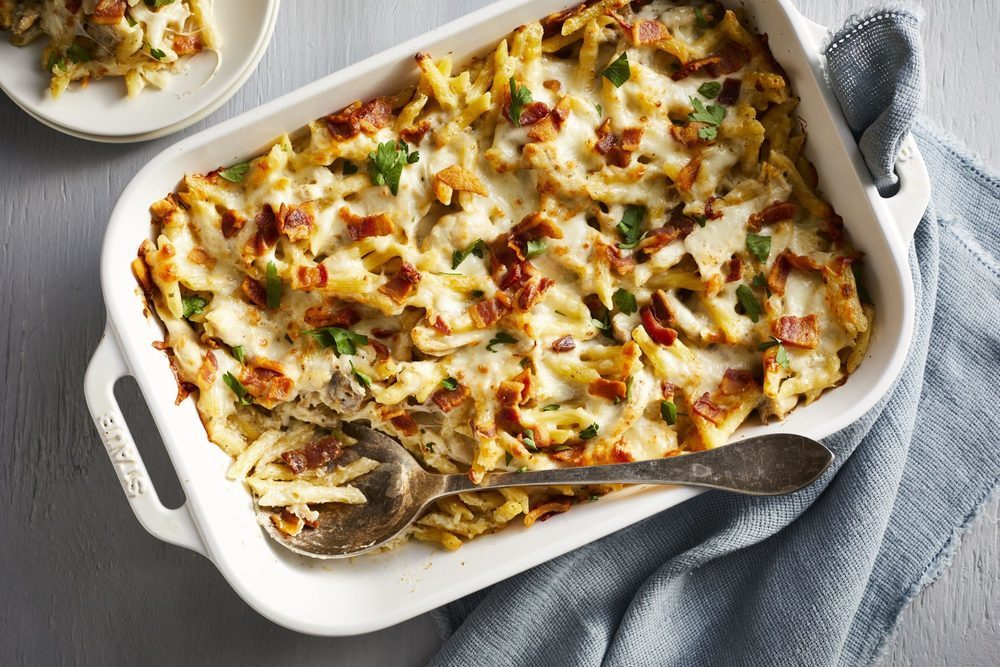 Ingredients
for 6 servings
8 ounces uncooked mini penne
4 bacon slices, chopped
1 tablespoon minced garlic (about 3 garlic cloves)
3/4 cup heavy whipping cream
1 (8-oz.) pkg. cream cheese, cubed and softened
2 ounces Parmesan cheese, grated (about 1/2 cup)
2 tablespoons ranch dressing and seasoning mix (from 1 [1-oz.] pkg.)
1/4 teaspoon black pepper
3 cups shredded, cooked chicken (from 1 rotisserie chicken)
8 ounces low-moisture part skim mozzarella cheese, shredded (about 2 cups) divided
Cooking spray
2 tablespoons chopped fresh flat-leaf parsley
Prep. Time → 20 min
Cook Time → 30 min
1. Preheat oven to 375°F. Cook penne according to package directions; drain, reserving 1 cup cooking water. Place pasta in a large bowl, and set aside.
2. Heat a large skillet over medium. Add bacon, and cook, stirring often, until crisp, about 5 minutes. Using a slotted spoon, transfer bacon to a plate lined with paper towels. Reserve drippings in skillet.
3. Add garlic to hot drippings in skillet over medium, and cook, stirring constantly, until fragrant, about 1 minute. Whisk in whipping cream and cream cheese; cook, whisking often, until cream cheese is melted and mixture is smooth, about 2 minutes. Remove from heat, and stir in Parmesan, ranch dressing mix, pepper, and reserved 1 cup cooking water. Pour over pasta. Fold in chicken and 1 cup of the mozzarella cheese. Pour mixture into a lightly greased (with cooking spray) 13- x 9-inch baking dish. Top with bacon and remaining 1 cup cheese.
4. Bake in preheated oven until golden and bubbly, about 20 minutes. Sprinkle with parsley, and serve hot.
main courses, casserole, chicken, pasta August 15, 2021 12:26
Author https://southernliving.com/recipe...
Share the recipe with your friends
No one has liked this recipe.
0 comments