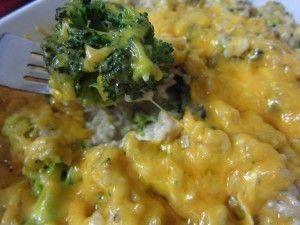 Ingredients
for 8 Servings
2.5 cups uncooked brown rice
2 cups chicken, cooked and chopped
4 cups fresh broccoli florets
1 batch cream of mushroom soup
1 batch cream of chicken soup
2 cups shredded cheddar cheese
salt and pepper to taste
Prep. Time → 20 min
Cook Time → 25-30 min
1. Cook brown rice according to package instructions on the stove top or in a rice cooker.
2. Meanwhile, in a large pot, steam broccoli florets until just tender. Drain and rinse with cold water.
3. Combine all ingredients in a large mixing bowl, reserving .5 cup of shredded cheese. Mix well to combine.
4. Divide casserole between two 8 x 8 greased baking pans or one larger pan.
5. Sprinkle each with .25 cups shredded cheese.
6. Bake at 350 degrees for 25-30 minutes, until heated through and bubbly.
7. *Freezing Directions:
Follow directions above and freeze before baking. TO SERVE: Thaw and bake as directed above.
main courses, broccoli, casserole, chicken March 19, 2012 01:51
Author onceamonthmom.com
Share the recipe with your friends
No one has liked this recipe.
0 comments