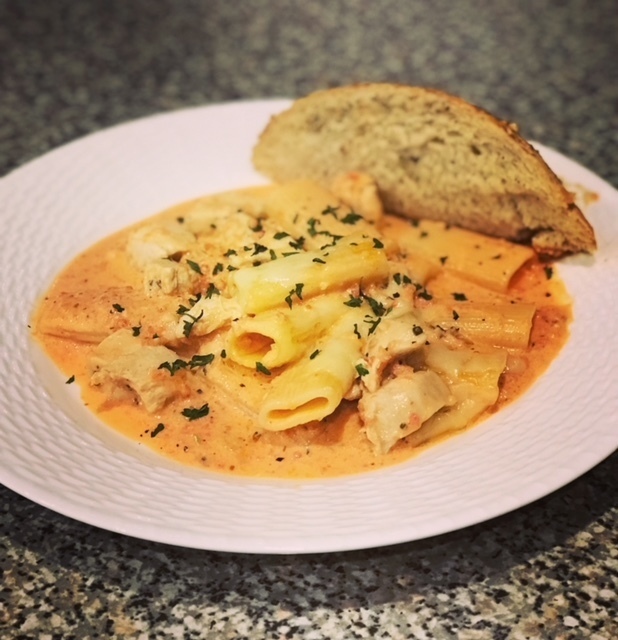 Video
4 chicken breasts, cubed
1 teaspoon basil
1 teaspoon oregano
1 teaspoon roasted garlic & herb (Weber)
2 tablespoons olive oil
3 garlic cloves, minced
1 teaspoon sea salt
2 cans stewed tomatoes, blended
2 cups organic heavy cream
1 teaspoon sea salt
1/2 teaspoon black pepper
16 ounces box rigatoni pasta, cooked & strained
1/2 cup shaved Parmesan cheese
Prep. Time → 10 min
Cook Time → 20 min
1. Heat deep skillet over medium heat.
Add olive oil, chicken, and seasonings.
Cook about 7-8 minutes turning once and leaving the chicken a little pink in the center.
Transfer to a plate.
2. Add blended stewed tomatoes and heavy cream to the same pan chicken was cooked in, and bring to a light boil. Add salt and pepper, and cook about 5 minutes until heated through. Add chicken to the sauce and cook another 3 minutes. Pour sauce mixture over cooked pasta and place in a large baking dish. Sprinkle top with Parmesan cheese, and bake at 350 for 10 minutes until cheese melts.
main courses, chicken, garlic, healthy, italian, olive oil, one pot, parmesan, pasta, rigatoni, tomatoes February 06, 2018 17:43
Share the recipe with your friends
No one has liked this recipe.
0 comments