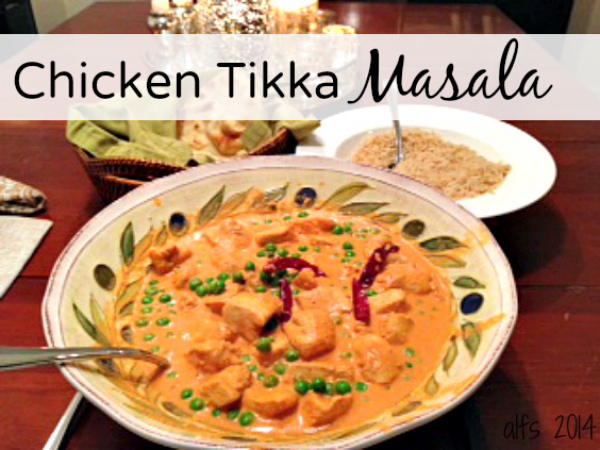 Ingredients
2 pounds chicken breast (cut into cubes)
MARINADE FOR CHICKEN

16 oz. container of plain Greek yogurt
1 tablespoon lemon juice
2 teaspoons ground cumin
1 teaspoon ground cinnamon
2 teaspoons cayenne pepper
1 teaspoon black pepper
1 tablespoon grated fresh ginger
2 teaspoons of salt
SAUCE:

1 tablespoon butter
1 garlic clove
1 jalapeno pepper, chopped (remove the membrane)
2 teaspoons ground cumin
2 teaspoons paprika
1 teaspoon salt
1/4 teaspoon curry powder
1/4 teaspoon sriracha sauce
6 dried chilies (we use arbol chilies)
1 cup frozen peas (optional)
8 ounces tomato sauce
1 cup heavy cream
1. Cut the chicken up into 1 inch cubes. Mix the marinade together and let the chicken sit for an hour (you can also marinate the chicken the night before).
2. Heat grill pan or skillet and grill chicken until 3/4 done (a few minutes on each side). In the meantime, in a separate skillet or Dutch oven, melt butter and sauté garlic and jalapeno until soft.
3. Add seasonings and stir for 2 minutes until fragrant. Add in tomato sauce and heavy cream. Add dried chilies and chicken into sauce and cook an additional 10 minutes.
4. Before serving, stir in frozen peas and heat through (optional step). Serve over rice with plenty of naan.
main courses, chicken February 25, 2016 01:39
Author a-life-from-scratch.com/
Share the recipe with your friends
No one has liked this recipe.
0 comments