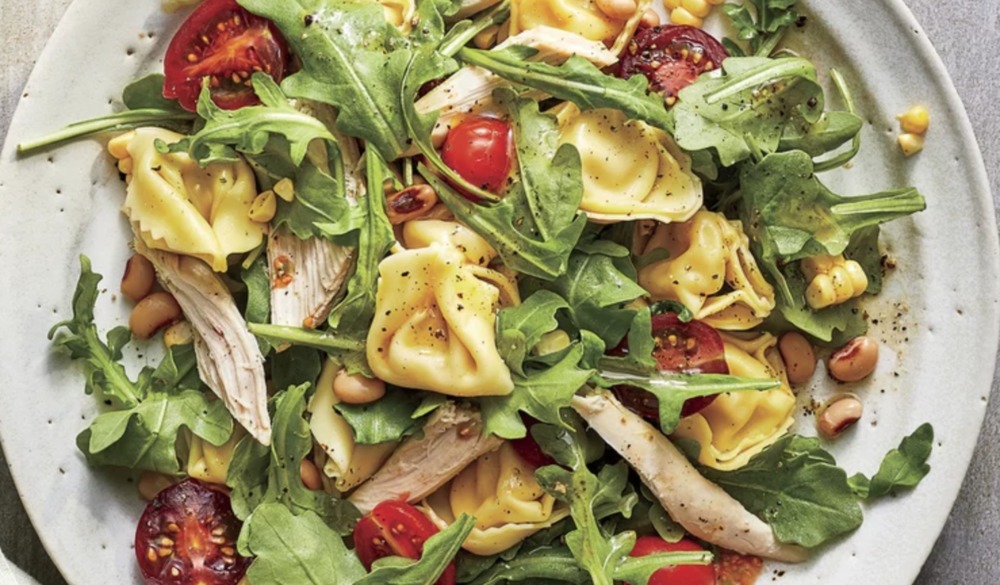 1/4 cup white balsamic vinegar
1/8 teaspoon black pepper
3/4 teaspoon kosher salt, divided
1/3 cup extra-virgin olive oil
2 tablespoons chopped fresh basil
2 (9-ounce) package refrigerated cheese-filled tortellini, cooked according to package directions, rinsed in cool water, and drained
2 cups shredded rotisserie chicken
1 cup halved cherry tomatoes
1/2 cup drained and rinsed black-eyed peas (from one 15-1/2-ounce can)
1/2 cup fresh corn kernels (from 1 ear)
1 cup baby arugula
3 tablespoons chopped toasted pecans
Prep. Time → 20 min
Cook Time → 10 min
1. Whisk together balsamic vinegar, pepper, and 1/2 teaspoon of the kosher salt in a small bowl until combined. Gradually add olive oil in a slow, steady stream, whisking constantly until smooth. Stir in basil, and set aside.
2. Gently toss together cooked tortellini, chicken, tomatoes, peas, corn, and remaining 1/4 teaspoon kosher salt in a large bowl. Gently stir in basil vinaigrette and fold in arugula. Sprinkle with pecans.
starters, chicken, corn, lunch, pasta, tomatoes July 09, 2019 11:03
Author https://southernliving.com/recipe...
Share the recipe with your friends
No one has liked this recipe.
0 comments