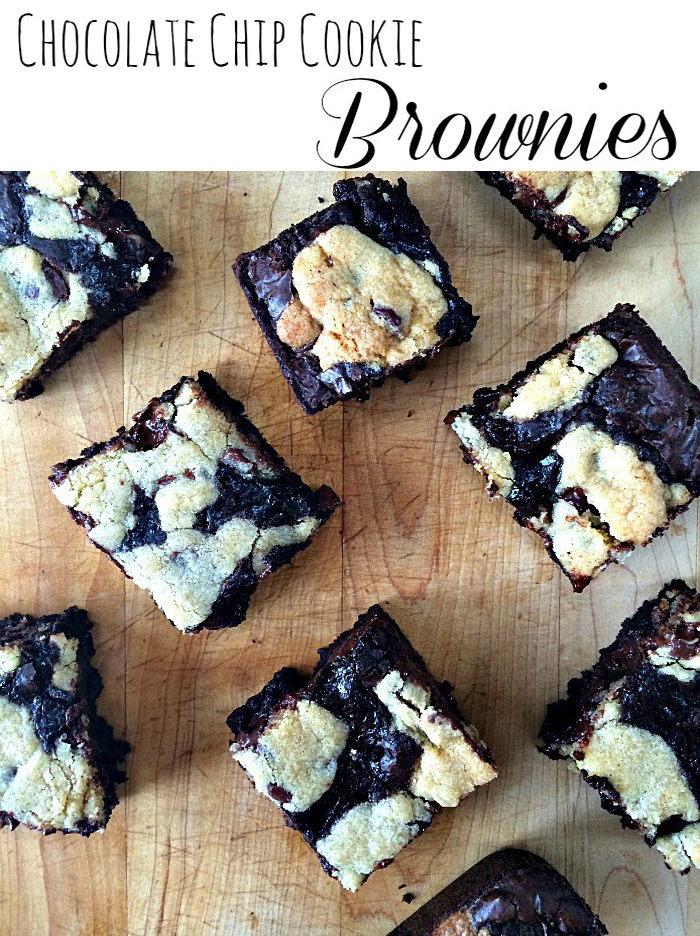 Ingredients
1 stick salted butter (1/2 cup, very soft)
¾ cup white sugar
2 tablespoons brown sugar, packed
1 egg
½ teaspoon vanilla
1 cup + 2 tablespoons flour
½ teaspoon baking soda
¼ teaspoon salt
1 cup chocolate chips
18.9 ounce brownie mix - my all-time favorite is Ghirardelli Double Chocolate
(eggs, oil, and water for brownie mix)
1. With an electric mixer, cream butter and sugars in a small mixing bowl. Add vanilla and egg; cream again until smooth. Add the flour, baking soda, and salt. Stir gently until incorporated. Stir in chocolate chips. Store in refrigerator until ready to use.
2. Preheat oven to 350 degrees. Prepare brownie batter as directed. Pour batter into a glass 8x8 or 9x9 baking dish. Scatter pieces of cookie dough over the top of the brownie batter. In my 8x8 square pan, I was able to get about ⅔ of the cookie dough to fit over the brownies and I just saved the rest for regular cookies. Press gently on the dough just until it starts to sink down into the batter a little bit
3. Bake for 35-40 minutes (35 for gooey, 40 or more for fully baked), covering with foil if you need to keep the cookies from getting too brown on top. I baked them uncovered for the first 20 minutes, then covered an additional 20 minutes. Let stand for 15-20 minutes and cut into pieces for serving.
desserts January 25, 2016 04:00
Author a-life-from-scratch.com