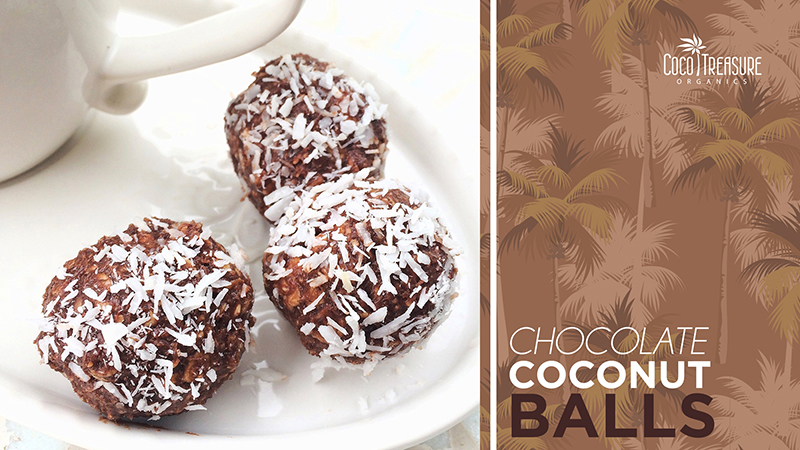 ¼ teaspoon sea salt
1 cup unsalted butter
1 cup skim milk
2 teaspoons pure vanilla extract
2 cups Coco Treasure Organics Coconut Sugar
6 cups rolled oats
6 cups shredded coconut sweetened
12 tablespoons cocoa powder unsweetened
Prep. Time → 60 min
Cook Time → 3 min
1. In a large bowl, combine one cup of shredded coconut and oats. Set aside.
2. In a large saucepan, mix the cocoa, milk, sugar, salt, and butter. Whisk thoroughly until the butter melts. Bring to a boil for a minute without whisking.
3. Take the pan from the heat and add the vanilla extract and rolled oats. Mix until combined. Cover with plastic wrap and chill for an hour.
4. Pulse the rest of the shredded coconut in a food processor.
5. Prepare four baking sheets and line them with parchment paper. Scoop one tablespoon of the dough and roll to form balls. Arrange them on the baking sheets.
6. Refrigerate for an hour to set.
8. Recipe Notes: Well, if you haven't made something like this before, we promise you that you will instantly get hooked after your first bite. Are you up for another guilt-free treat? Try our Healthy Peanut Butter Balls!
desserts, dessert, food, recipes, chocolate coconut balls, coconut balls, chocolate balls February 26, 2018 07:42
Author https://cocotreasure.com/recipes/choc...
Share the recipe with your friends
No one has liked this recipe.
0 comments