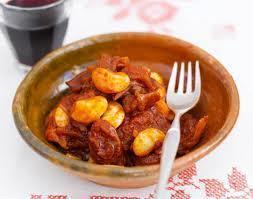 1tsp oil
1 onion chopped
2 cloves garlic (or 1tsp garlic paste if easier)
100g chorizo sausage sliced
4 large fresh tomatoes (skinned and diced)
2tbsp tomato puree
1.5 tsp choped chilli paste (or 1 medium fresh chilli)
1tsp sugar
seasoning
3 peppers (any colour you fancy) I used 1 red, 1 yellow, 1 orange
1 tin of jersey potatoes
1 tin sliced carrots
1 tin butterbeans
Large handful of whole pitted black olives
Prep. Time → 20 min
Cook Time → 60 min
1. Heat oil in large deep pan and fry off onions until golden. Add garlic and chorizo to release it's paprika juices and mix with onions. Add peppers and fry for 5mins to soften.
2. Criss cross tomatoes top and tail and place into bowl of scalding water for 1 min and remove. Skin should come away easily, if not, replace them in water for another 30secs. Once all skin is removed, roughly chop, keeping them chunky. Add to pan along with tomato puree, olives, sugar, seasoning and chilli paste. Allow to bubble away for 5 mins.
3. Drain tinned potatoes and chop in half, add to pan, followed with carrots and butterbeans. Stir altogether and taste for seasoning and heat. Add more chilli if desired, though remember the chilli is for warmth in this dish and not meant to overpower. .
4. Add 200ml water to loosen. Allow to simmer on low heat for 1 hour. This will soften chorizo and thicken sauce. Check every so often, ading more water if needed. Desired consistency is somewhere between soup and stew. Enough juice to mop up with crusty bread.
5. Serve with crusty baguette and top with mature grated cheese if desired.
6. Also wonderful served as side of baked cod or with couscous or rice.
main courses November 15, 2011 09:25
Share the recipe with your friends
No one has liked this recipe.
0 comments