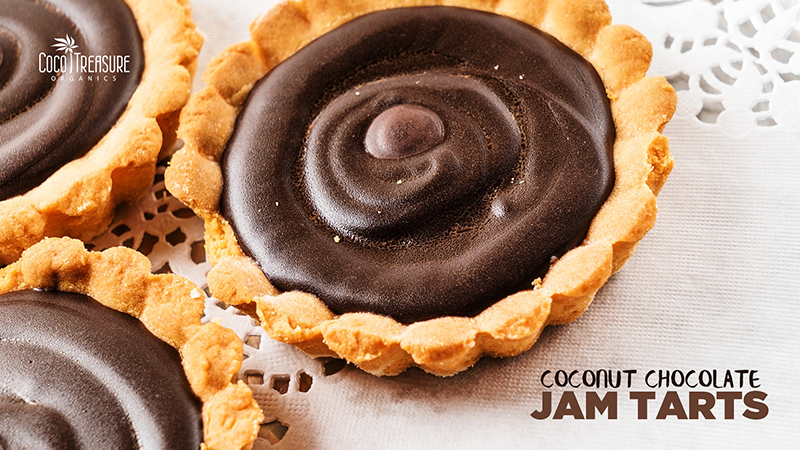 Ingredients
for 12 Servings
A pinch of salt
1 medium-sized egg
1 tablespoon cold water
100 grams Coco Treasure Organics Coconut Chocolate Jam
125 grams butter diced and chilled
250 grams all-purpose flour
Prep. Time → 25 min
Cook Time → 18 min
1. Combine the salt, butter, and flour in a large bowl and rub them together using your fingertips. If you have a food processor, you can pulse them together until you achieve a breadcrumb-like texture.
2. Slowly stir in the egg until mixture is smooth.
3. Add the cold water and take the dough using your hands. Knead, but don't overdo it.
4. If the dough is not coming together, add another tablespoon of cold water.
5. Set aside the dough. Use a cling wrap. Place in the fridge for 30 mins.
6. Preheat the oven to 200 degrees Celsius.
7. Dust a plain surface with flour. Roll the chilled dough on it. Use a rolling pin to flatten it to about the thickness of a centavo. And then, cut out 12 circles.
8. Arrange the circles into the tart tins. Add a dollop of the coconut chocolate jam.
9. Bake for 15 minutes or until golden brown.
10. Let it cool before serving.
11. Recipe Notes: These Coconut Chocolate Jam Tarts are so decadent, divine, and delicious! They won't disappoint. Try baking them and let us know how your culinary adventure went.
desserts, coco treasure organics, coconut jam, food, recipes, coconut chocolate jam tarts, coconut chocolate jam, chocolate jam tarts February 13, 2018 05:33
Author https://cocotreasure.com/recipes/coco...
Share the recipe with your friends
No one has liked this recipe.
0 comments