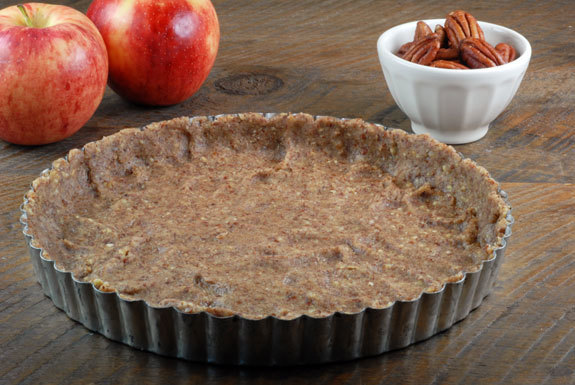 Ingredients
Yield: One 8" pie crust
¼ cup Coco Treasure Organic Coconut Flour
1 tablespoons finely chopped pecans (substitute walnuts or almonds if preferred)
2 tablespoons Coco Treasure Organic Coconut Sugar
2 tablespoons Coco Treasure Organic Extra Virgin Coconut Oil (for a less "coconuty" flavor, use dairy butter instead
Directions
1. Combine all of the ingredients in a small bowl. Stir until well combined. Press the mixture into a pie pan. Use the bottom of a glass, a large spoon or the palm of your hand to pack the crust firmly and evenly into the bottom of the pan. Bring the crust up the sides of the pie plate, carefully pressing the mixture into a solid crust.
2. Bake in a preheated 350-degree oven for 10 minutes. The crust should be slightly browned and feel somewhat dry to the touch. Place on a rack and cool thoroughly before filling with your favorite pie filling.
3. Organic Coconut Flour boosts the fiber content over traditional wheat flour and has the added benefit of not containing any gluten. The high fiber content of our gluten free coconut flour can be our little secret.
desserts, coconut flour, coconut flour recipes, coconut oil, coconut sugar, pecan pie crust November 01, 2017 13:26
Author https://cocotreasure.com/recipes/coco...
Share the recipe with your friends
No one has liked this recipe.
0 comments