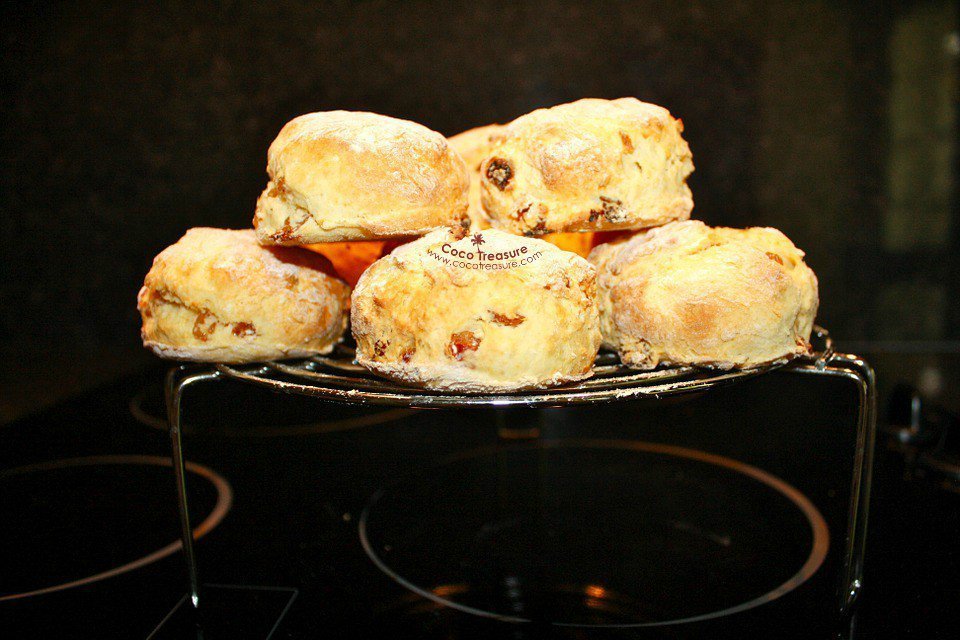 Ingredients
Scones

½ cup Coco Treasure Organic Coconut Flour
¾ cup whole wheat pastry flour
½ cup rolled oats
½ cup sweetened flaked coconut
2 tablespoons Coco Treasure Organic Coconut Sugar
1 tablespoon baking powder
½ teaspoon sea salt
6 tablespoons lightly chilled Coco Treasure Organic Coconut Oil
4 large eggs
1 cup coconut milk
Orange Glaze

½ cup powdered sugar
2-3 teaspoons orange juice
Directions
1. Preheat oven to 375 degrees F. To guarantee your scones don't stick, line a baking sheet with parchment paper.
2. Mix all the dry ingredients in a large bowl. Cut the chilled coconut oil into the dry ingredients with a pastry cutter or a fork until the mixture resembles coarse crumbs. Tip: measure out the 6 tablespoons of coconut oil first and place it in the refrigerator for 10-15 minutes. The oil should be the same consistency as chilled butter.
3. Whisk the eggs and coconut milk together in a separate bowl. Reserve 1 tablespoon of the mixture, and pour the rest into the dry ingredients. Mix by hand with a large spoon, do not use an electric mixer or food processor.
4. Turn dough onto a lightly floured surface. Shape the dough into an 8-inch circle. Brush with reserved egg mixture. Transfer to baking sheet.
5. Bake approximately 20 minutes or until the dough is lightly golden. Remove and allow to cool for 15 minutes.
6. Mix the ingredients for the glaze. Begin with 2 tablespoon of juice, and add more if needed to make a consistency similar to honey.
7. Cut the wedge into 8 wedges. Drizzle glaze over each scone.
coconut flour, scones, coconut flour recipes, orange glaze October 30, 2017 06:58
Author https://cocotreasure.com/recipes/coco...
Share the recipe with your friends
No one has liked this recipe.
0 comments