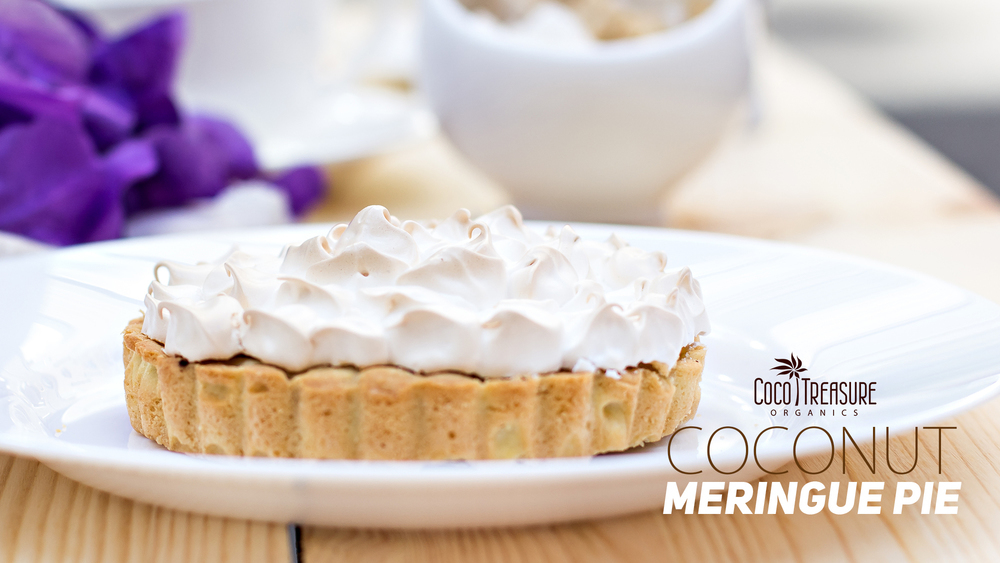 For the Custard Filling
½ cup corn flour
½ cup coconut water
½ cup caster sugar
1 cup coconut milk
1 teaspoon pure vanilla extract
1 cup young coconut meat shredded
4 egg yolks
For the Meringue
¼ teaspoon cream of tartar
½ cup water
¾ cup caster sugar
2 egg whites
For the Pastry
¼ cup ice cold water
1 egg yolk
1 ½ cups plain flour
2 tablespoons caster sugar
125 grams Coco Treasure Organics Coconut Oil cold and chopped
Prep. Time → 30 min
Cook Time → 35 min
1. For the Pastry:
Place the sugar, coconut oil, and flour in a food processor. Process until you obtain a mixture that resembles crumbs.
Mix the egg yolk with the ice cold water. Add to the dry mixture and process until a dough is formed.
Shaped into a disc and cover with a plastic wrap. Chill for 2 hours.
After 2 hours, preheat the oven to 350 degrees Fahrenheit. And then, lightly flour a plain surface. Roll out the pastry dough until it is 5 mm thick. Use it to line a 22 cm pie pan. Remove the excess sides.
Freeze for another 20 minutes.
Use a fork to prick the pastry. Cover it with parchment paper. Finally, fill it with rice.
Bake for 12 to 15 minutes.
Remove the rice and parchment paper and bake for another 10 minutes. Let it cool.
2. For the Custard Filling:
Put a large saucepan over medium heat. Pour the coconut milk, coconut water, and vanilla extract into it and bring to a boil.
Remove from heat. Set aside.
In a bowl, whisk the egg yolks, corn flour, and caster sugar until thick. Continue whisking while pouring onto the coconut mixture until smooth.
Return the pan to the heat and cook for 3 minutes. Continue whisking until thick.
Remove from heat. Add the coconut meat. Put the entire mixture into the pastry you baked.
Chill for an hour.
3. For the Meringue:
Preheat the oven to 325 degrees Fahrenheit.
In a saucepan, put the cream of tartar, sugar, and water. Stir until the ingredients dissolve. Bring to a boil until thick. Remove from heat.
Use an electric mixer to whisk the egg whites and form stiff peaks. Add the sugar syrup you made gradually. Whisk for another minute until glossy and thick.
Spread the meringue over the custard filling. Bake for 30 seconds or until the meringue becomes golden.
Let it cool. Cut into 8 even slices.
Serve.
desserts, coco treasure organics, dessert, food, recipes, coconut meringue pie, coconut pie February 22, 2018 00:18
Author https://cocotreasure.com/recipes/coco...
Share the recipe with your friends
No one has liked this recipe.
0 comments