Ingredients
for 1.3 kg turkey fillet
1.3 kg turkey fillet
1/2 tsp black pepper, ground
1/2 tsp paprika
1/2 tsp turmeric
1/4 tsp chili pepper, ground
1/2 tsp mustard, cereal
4-5 garlic cloves, minced
2 Tbsp olive oil
2 Tbsp salt
1 tsp parsley
1 tsp dill
Prep. Time → 15 min
Cook Time → 180 min
1. Wash turkey fillet under cold water. Dry thoroughly by paper towels.
2. Mix black ground pepper, paprika, turmeric, ground chili pepper, cereal mustard, dill, parsley, minced garlic cloves, olive oil and salt in separate bowl.

Smear the turkey fillet with this mixture. Pour two spoons of olive oil and 40 ml of water in the multicooker. Also put turkey fillet in it.
3. Cook in Baking mode for 2-3 hours, turn the meat periodically until ready.
4. Pull the cold boiled pork from multicooker, let it cool and serve with vegetables.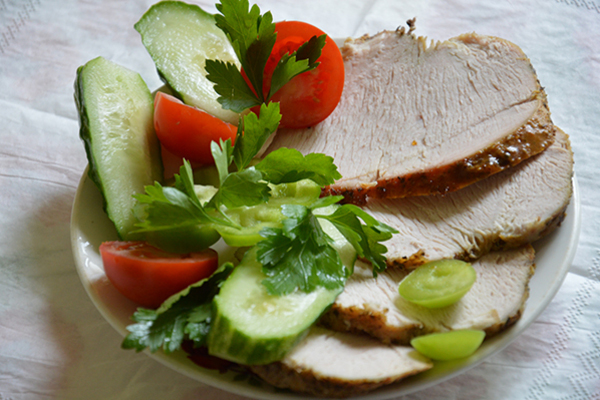 starters, boiled, cold, dill, garlic, parsley, pepper, pork, turkey, fillet June 05, 2014 16:12
Author Marina Peskova (cookpass.ucoz.com/)
Share the recipe with your friends
No one has liked this recipe.
0 comments