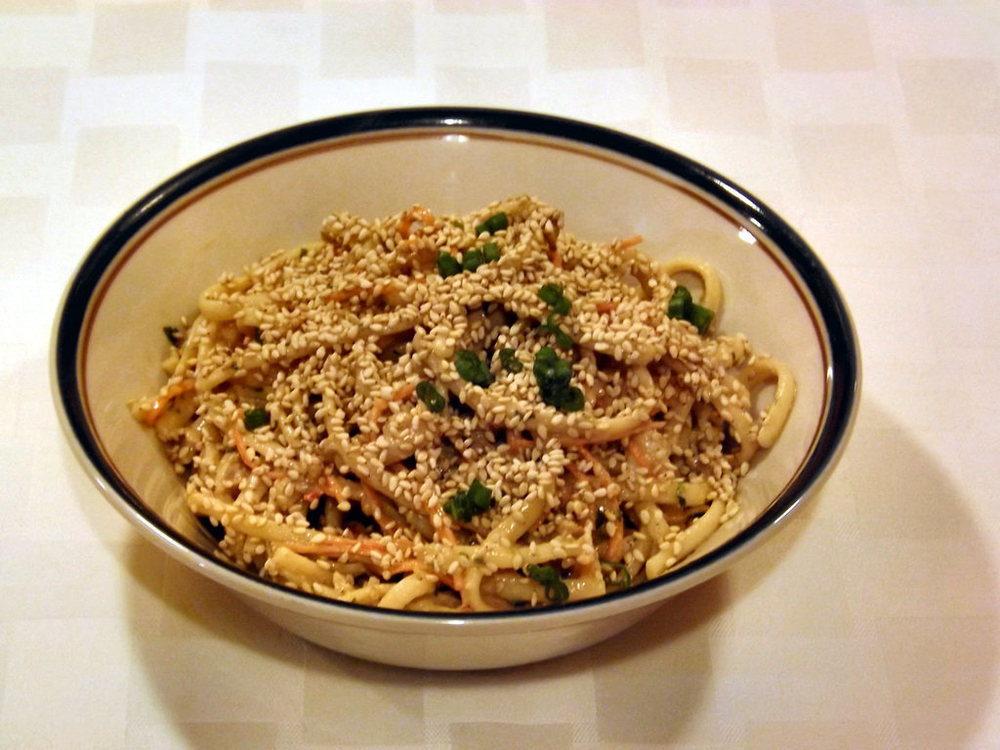 Ingredients
for 6 or more people
12oz whole wheat Spaghetti Pasta or Lo Mein Noodles
1 medium Carrot (julienned)
2 tbsp Rice Wine Vinegar
1 or 2 tsp Chinese Chili Garlic Paste
3-4 red Thai Chilies (minced)
1 1/2 tbsp Brown Sugar
2 tbsp Thai Sweet Chili Sauce
1 clove Garlic (minced)
1/2 tsp ground ginger
1 tbsp Toasted Sesame Oil
2 tbsp Golden Mountain Sauce or tamari or soy
2 tbsp Sesame Tahini
2 tbsp smooth Peanut Butter
Toasted Sesame Seeds
2 or 3 sprigs Cilantro (minced)
Dry Roasted Peanuts (chopped/crushed)
Scallion -chopped (optional)
Prep. Time → 20 min
Cook Time → 10 min
1. Prepare noodles al dente (10 minute boil) and rinse under cold water. Set aside or refrigerate.
2. In large mixing bowl, combine vinegar, chili paste, sweet chili sauce, garlic, ginger, brown sugar, and golden mountain sauce ( or tamari/soy). Mix well then add sesame oil.
3. Add peanut butter & tahini paste and mix well until consistency thickens.
4. Run carrot through a mandolin and chop resulting stack of carrot slivers into 3 segments or lengths.
5. Add noodles, cilantro, and carrot slivers to mixture then combine well.
6. Refrigerate for at least 1/2 hour, then stir and serve topped with crushed peanuts, and sesame seeds. Garnish with scallion segments.
side dishes, asian, chinese, comfort, healthy, noodles, simple, spicy, hearty, protein, sweet, vegetarian, nutty October 30, 2013 05:19
Author Original recipe developed from hybridizing multiple sources.
Share the recipe with your friends
No one has liked this recipe.
0 comments