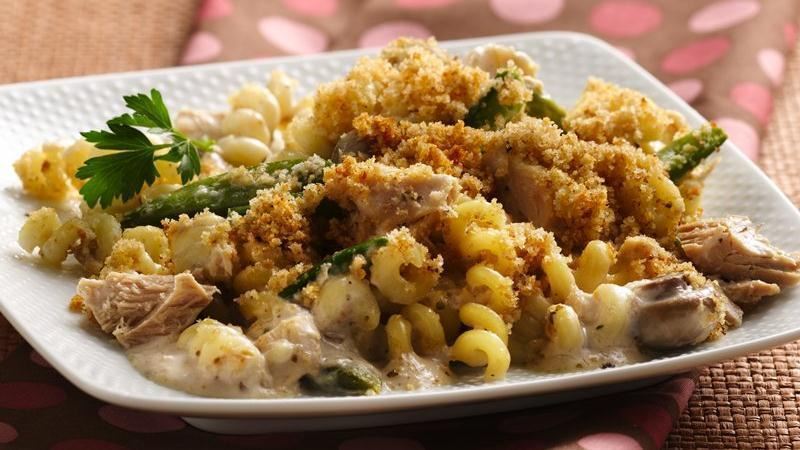 Ingredients
for 6 servings
2 cups uncooked fusilli pasta (16 ounces)
1 16-ounce jar Alfredo pasta sauce
1/3 cup dry white wine or chicken broth
1 teaspoon Italian seasoning
1 teaspoon grated lemon peel, grated
3 5-ounce cans of solid white albacore tuna in water, drained
1 9-ounce box Green Giant frozen sugar snap peas, thawed and drained
1 4.5-ounce jar Green Giant whole mushrooms, drained
1/2 cup bread crumbs
2 tablespoons butter, melted
Prep. Time → 15 min
Cook Time → 45 min
1. Heat oven to 375 degrees F. Spray a 2-quart baking dish, or 13-inch x 9-inch baking dish with cooking spray.
2. Cook and drain pasta as directed on package using minimum cook time. In a large bowl, stir Alfredo sauce, wine, Italian seasoning, lemon peel, tuna, peas, mushrooms, and pasta together. Spoon into baking dish.
3. In a small bowl, stir together breadcrumbs and melted butter; sprinkle in baking dish.
4. Bake 25 to 30 minutes or until topping is golden brown.
5. (Can added shredded Parmesan cheese before adding bread crumbs.
main courses, casserole, fish, seafood, tuna February 20, 2016 13:51
Author bettycrocker.com/recipes/c...
Share the recipe with your friends
No one has liked this recipe.
0 comments