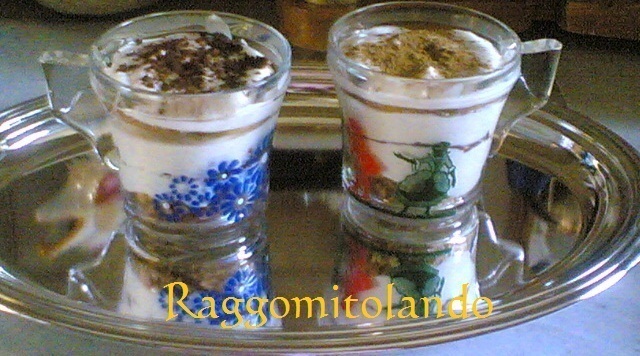 Ingredients
for 2 coppe (abbondanti)
Biscotti tondi 4
Formaggio cremoso 120gr
Yogurt bianco dolce 1 vasetto
Zucchero 4 cucchiai
Panna da montare 50gr
Cuiccolato fondente 30gr circa
Liquore a piacere (Io cherry) 2cucchiai allungati in 2cucchiai acqua
1. Miscelare bene il formaggio, yogurt, zucchero e la panna montata ma non troppo.
2. Passare rapidamente un biscotto nel liquore "annacquato" e sbriciolarlo sul fondo della coppa
3. Coprire con una cucchiaiata abbondante di crema,il cioccolato tritato al momento,altra cucchiaiata di crema, un biscotto inzuppato, altra crema.
4. Infine decorare con una spolverata di Cacao o Cannella secondo i gusti, e lasciare in frigo per almeno 4h prima di godersele
desserts, cioccolato fondente, panna, yogurt, formaggio cremoso July 04, 2012 18:34
Author July
Share the recipe with your friends
No one has liked this recipe.
0 comments