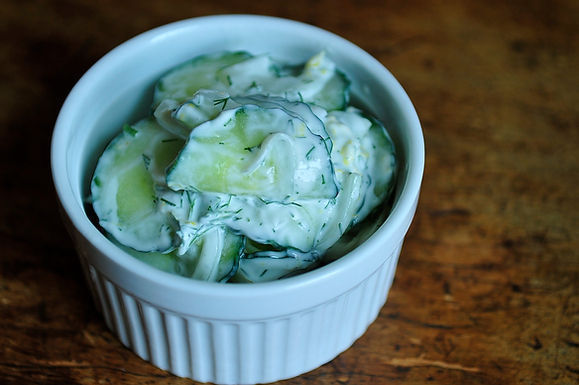 Ingredients
1 organic English cucumber (about one lb-sized)
1/2 Vidalia onion, peeled
1 teaspoon Kosher salt
1 tablespoon rice wine vinegar
1 teaspoon organic cane sugar
1/2 cup best quality Greek yogurt
2 tablespoons fresh dill, chopped
zest of one Meyer lemon
Directions
1. Slice the cucumber and onion as thinly as possible. Place slices in a colander, sprinkle with the salt, stir and seat the colander over a bowl to catch the released liquid. Refrigerate for one hour.
2. Discard the extra liquid and now rinse the salt from the cucumber and onion.
3. Drain well and pat the slices dry using kitchen towels.
4. Turn the cucumber and onion into a medium-sized bowl and add the sugar and vinegar, stirring to dissolve the sugar. Fold in the yogurt, dill and lemon zest. Chill for an hour, stir again (juices will have settled) and serve.
appetizer, vegetables October 21, 2011 05:03