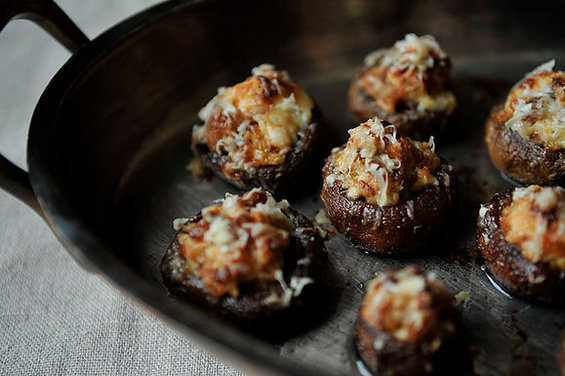 Ingredients
for Creamy Sausage Stuffed Mushrooms
5 PINTS OF BUTTOM MUSHROOMS
4 ITALIAN SAUSAGE LINKS
8 ounces CREAM CHEESE (room temperature)
2 YELLOW ONIONS MINCED
5 GARLIC CLOVES MINCED
5 ounces ASIAGO CHEESE SHREDDED
7 tablespoons OLIVE OIL
3 tablespoons BALSAMIC VINEGAR
SALT & PEPPER
1. Wipe mushrooms clean with a damp cloth and pull out the stems and discard. Toss the cleaned de-stemmed mushrooms with 5 tbs of olive oil, balsamic vinegar, salt and pepper. Spread out on a sheet pan and bake in a pre-heated oven at 350 degrees for 30 minutes. Set aside and cool.
2. Slit the Italian sausage and remove casing. Crumble in a heated pan and saute until golden brown. Break up into small pieces while it is cooking. Set aside and cool.
3. Add the remaining 2 tbs of olive oil in a saute pan and add the onions. Cook until dark and caramelized, about 15-20 minutes. Then add in the garlic and cook for a minute.
4. Now add the cooked sausage, onions and garlic, cream cheese, salt & pepper, and 3 oz of shredded Asiago cheese to a bowl and mix well with your hands. Break apart any large pieces of sausage.
5. Line up your mushrooms in a greased baking dish with the core side facing up. Stuff each mushroom with a generous portion of the creamy sausage mixture. Top the mushrooms with the remaining Asiago cheese.
6. Now put the baking dish in a pre-heated oven at 375 degress for roughly 45 minutes or until the cheese on top is golden brown. (This dish can be made up to 3 days ahead of time and put in the cooler unitl you are ready to put in the oven.)
appetizers December 29, 2011 20:18