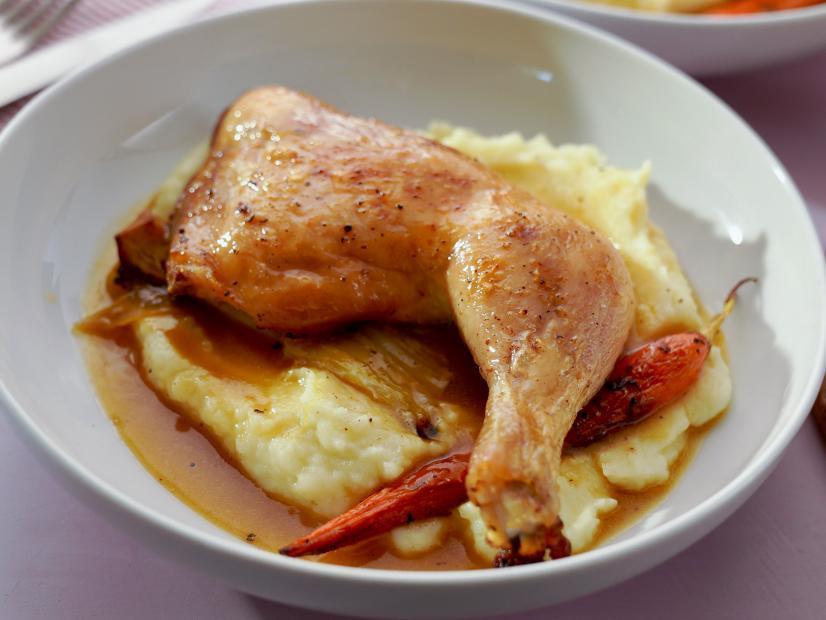 Chicken

1 lemon, cut crosswise into 4 rounds
2 large leeks, sliced lengthwise, rinsed well and quartered crosswise
4 bone-in skin-on chicken leg quarters, patted dry
Kosher salt and ground pepper
4 tbsp (1/2 stick) unsalted butter
2 cloves garlic, smashed
8 carrots, peeled
flaky salt, for serving
Potatoes

2 lbs Yukon gold potatoes, peeled and quartered
2 tbsp kosher salt
1 cup milk or cream
some butter
salt and pepper
Chicken Jus

1/4 to 1/2 cup chicken stock
salt and pepper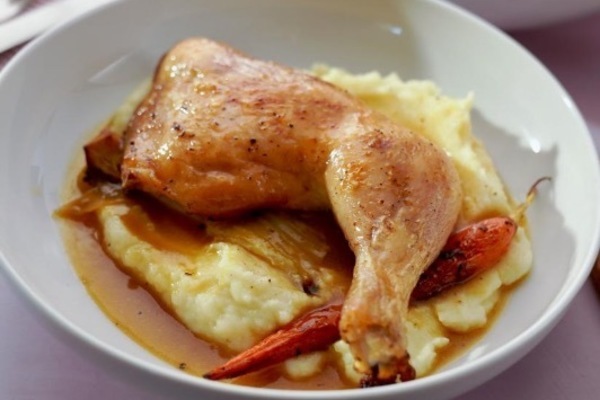 1. To make chicken: Arrange an oven rack in the middle position and preheat to 450 degrees. Line a baking sheet with foil. Evenly space the lemon slices on the baking sheet. Place a quarter of the leeks next to the lemon slices to create platforms for each chicken quarter. Place one chicken quarter on top of each platform. Season with salt and pepper. Roast for 30 mins.
2. Meanwhile make the garlic butter in a small saucepan over low heat. Add the butter and heat until melted. Add the garlic to the butter and heat until soft and fragrant, 2 to 3 mins.
3. Cook the potatoes in a large pot of salted water, then mash with the milk and butter.
4. After 30 mins of the chicken cooking, remove the chicken from the oven. Lower the temp to 375 degrees. Using a pastry brush, brush the par-cooked chicken all over with the garlic butter. Add the carrots to the baking sheet and toss to coat in the pan drippings. Return pan to the oven and roast until thickest part of chicken is 165 degrees and the skin is golden brown and crispy, about 30 mins more.
5. Take chicken out of oven and scoop up the pan drippings into a small saucepan over med heat. Add the chicken stock and whisk to combine. Cook until bubbling 3 to 4 mins.
6. Plate the masked potatoes with a spoonful of the chicken jus over top. Nestle a piece of chicken on top of the potatoes along with the carrots and leeks. Season with flaky salt.
main courses March 10, 2023 01:32
Share the recipe with your friends
No one has liked this recipe.
0 comments