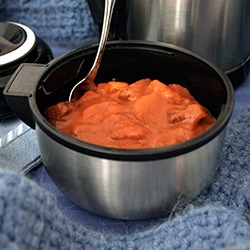 • 1 can diced tomatoes
• 1 tsp beef bouillon powder
• 2 lbs ground chuck, beef
• 1 cup fresh breadcrumbs
• 2 large eggs
• 1 onion, finely chopped
• 1/3 teaspoon ground pepper
• 1/2 cup milk
1. In a large bowl mix everything except tomatoes.
2. Form in crock pot (line with foil strips to make taking it out simpler).
3. Bake on low for 6 hours (or on high for 3). Bake to an internal temperature of 165-170°F.
4. Optional: cover with tomatoes, thinly sliced onions, or bacon. Bake for another thirty minutes to an hour on high.
main courses, american, crock pot meal, easy cooking, hearty, main course, meat, meat loaf, slow cooker August 31, 2012 18:07
Share the recipe with your friends
No one has liked this recipe.
0 comments