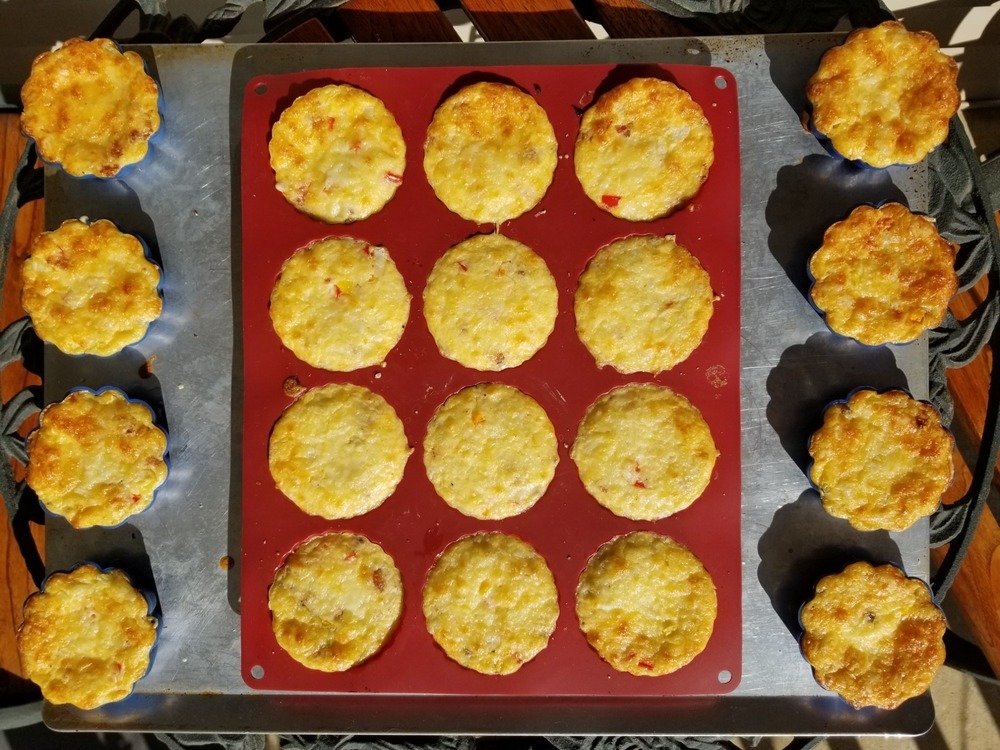 Ingredients
for 8 servings, 16 mini quiches
8 pieces (½ package) center cut bacon or a 2.5 oz package of pre-cooked bacon bits
½ lb ground pork sausage
8 oz Swiss cheese, shredded
1 small or ½ large onion, chopped
1 small or ½ large sweet bell pepper (red, yellow, orange or Aloha), chopped
Fresh ground pepper, to taste
1 pt heavy whipping cream
¼ c cornstarch
4 eggs
Hot sauce (e.g. Cholula), to taste (optional)
Prep. Time → 45 min
Cook Time → 15 min
1. Cook bacon to a well-done, crispy texture and allow it to cool. For best results, use a microwavable bacon tray like the Makin Bacon®, which allows the bacon to cook above the fat, not in it. Crumble the bacon into bits with a tool like the Gourmet Cheese Mill Grater® or place in a sealed plastic bag and run a rolling pin over it repeatedly to crumble the bacon. Set aside.
2. Alternatively, place frozen bacon bits in a food processor and pulse them create finer, more uniform bits and eliminate hunks of fat. Defrost them completely before use. Set aside.
3. Brown and finely crumble sausage in a frying pan over medium-high heat. Drain thoroughly with paper towels. Set aside.
4. Shred block of Swiss cheese and set aside. Avoid pre-shredded bagged cheese.
5. Place the silicone tart pans on a large cookie sheet. Divide half of the shredded Swiss cheese evenly among the 16 tart pans (just enough to cover bottoms). If necessary, use a food scale to help you measure precise amounts. Distribute the sausage evenly among the 16 tart pans, then the bacon, then the onion and finally the pepper, leaving enough room for the remaining cheese. Top each tart pan with the remaining shredded Swiss cheese. Season with pepper to taste.
6. In a medium bowl (preferably a batter bowl with pouring spout), add the cornstarch or flour and about ½ C heavy whipping cream. Whisk until smooth. Add a few dashes of hot sauce (optional) and the eggs. Whisk until smooth. Gradually add remaining cream and whisk until no lumps remain. Carefully pour egg mixture into the tart pans or use a large turkey baster to transfer liquid. Do not overfill.
7. Preheat oven to 450°F. Bake quiches on the center rack for 15-18 minutes. Allow quiches to cool at room temperature for 10 minutes before removing them from the tart pans for serving. To freeze them for later use, place the silicone tart pans with the prepared quiches in the freezer or outside during frigid temperatures for about 1-2 hours (just until they solidify), then pop them out and store in sealed freezer bags. To stack them inside a freezer bag, insert a piece of parchment paper between them to prevent them from sticking together.
8. To reheat frozen quiches, preheat conventional or toaster oven to 400°F. Line a cookie sheet with either aluminum foil and lightly spray with cooking spray or parchment paper (do not spray parchment). Place frozen quiches on cookie sheet in a single layer and bake for about 15-18 minutes until hot and bubbly. To reheat in the microwave (not recommended) place frozen quiches on a paper towel-lined plate, heat on low power for 2-3 minutes to defrost them, then on high for 30 seconds or until heated through.
appetizers, breakfast, cheese, cream, eggs, quiche, sausage, bacon, french December 18, 2019 20:15
Share the recipe with your friends
No one has liked this recipe.
0 comments