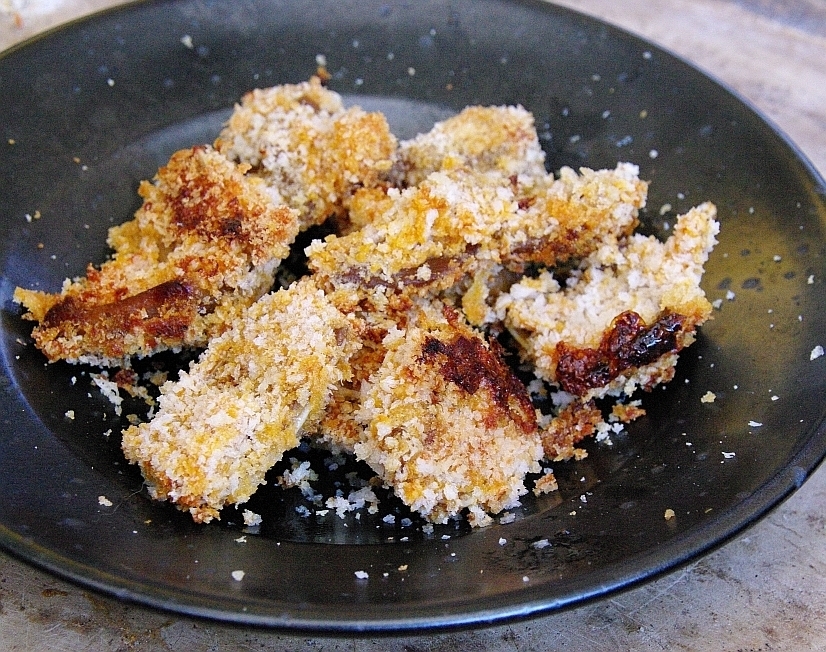 Ingredients
Pig Ears
3 pig ears
1 tsp thyme
1 tsp marjoram
3 sprigs lavender
1 Tbs salt
water
Egg Wash
2 Tbs mustard powder
2 Tbs water
2 eggs
1 tsp salt
2 Tbs siracha (Texas Pete's)
2 tsp roasted chile sauce
Breading
flour for dredging
panko
2 Tbs olive oil
Prep. Time → 30 min
Cook Time → 230 min
1. These are great. I was slow to get around to eating pig's ears, as they were not part of my cuisine as a kid, except perhaps in hot dogs. But a TV documentary on tapas showed people loving them. The cartilage threw me a bit - but now I relish the crunchiness of it. I made these for Christmas party and called them reindeer ears! These are sort of based on an old recipe for baked pigs ears from the Old Waldorf in NYC. I did the deviling (spicing with mustard and hot sauces) myself. Panko is also a great improvement for this type of dish.
3. 1. Cook pig ears in a pan with the spices and salt till tender - may take 3 hours - not falling apart but tender.
4. 2. Drain and cool pig ears. Chop into 1 inch pieces.
5. 3. Mix mustard with water and let sit for about 15 minutes
6. 4. Add eggs to mustard and add other egg wash ingredients.
7. 5. Dredge pig ears in flour - I use a plastic bag and shake them till well coated.
8. 6. Put a few pieces of the pig ears in the egg wash.
9. 7. Put these in panko - I use a plate - and coat well. Repeat till all are coated well.
10. 8. Put these in a baking pan (lined with non-stick aluminum foil - or use an oiled pan)
11. 9. Drizzle olive oil over the pig ears and bake for 45 minutes till crispy.
appetizers, pork, tapas, panco December 11, 2016 18:41
Share the recipe with your friends
No one has liked this recipe.
0 comments