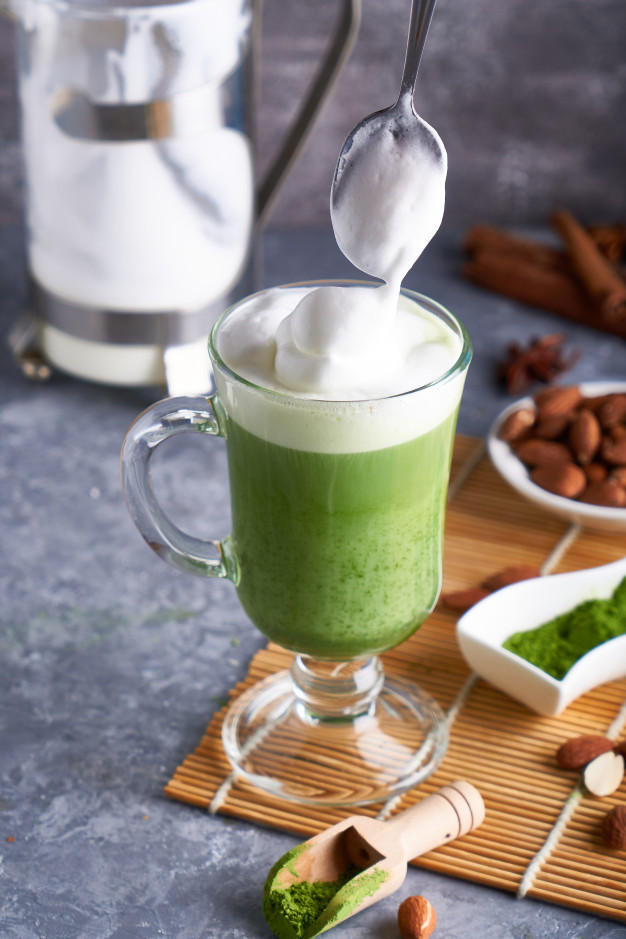 250 ml of milk of your choice
2 tablespoons of coconut milk passed trough cheese cloth to remove any clumps (optional and not necessary if you use cow's milk)
1/2 teaspoon matcha tea
1 generous teaspoon of honey
1/2 teaspoon liquid vanilla extract (optional)
Prep. Time → 5 min
Cook Time → 2 min
1. Heat the cow milk or coconut milk (if used) in a small saucepan.
When the milk cools, pour it into a blender or use a milk frother.
2. matcha powder for latte recipe
3. Whisk really well your matcha powder in a bowl or straight in the cup if it's large enough.
5. You can add honey (or other natural sweetener of your choice) and vanilla to the matcha tea, then mix for 30 seconds.
6. pour milk in the matcha latte
7. Add the frothed and well blended milk to the matcha tea:
8. add some milk in the matcha tea
9. 4. Pour into a cup and enjoy your delicious matcha latte immediately.
11. You can add some of the foam left when you frothed the milk on top of your latte for an even better presentation.
drinks, latte, matcha July 20, 2020 21:24
Author https://smartsexypaleo.com/easy-match...
Share the recipe with your friends
No one has liked this recipe.
0 comments