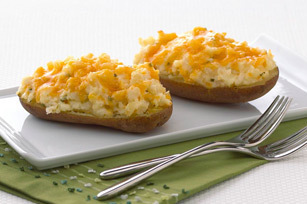 Ingredients
for 2 servings
1 large baking potato (about 10 oz.)
2 tablespoons Philadelphia Chive & Onion Cream Cheese Spread
2 tablespoons Breakstone's or Knudsen's Sour Cream
1/4 cup Kraft Shredded Sharp Cheddar Cheese, divided
Prep. Time → 15 min
Cook Time → 10 min
1. HEAT oven to 400ºF. Place potato on microwaveable plate. Prick in several places with fork. Microwave on HIGH 7 to 8 min. or until tender.
2. CUT potato in half lengthwise. Scoop flesh into bowl, leaving thin shells; mash with cream cheese spread, sour cream and 2 Tbsp. Cheddar. Spoon into shells; sprinkle with remaining Cheddar.
3. BAKE 10 min. or until cheese is melted and potatoes are heated through.
side dishes, cheese, potato, baked potatoes June 15, 2011 17:48
Author kraftrecipes.com/