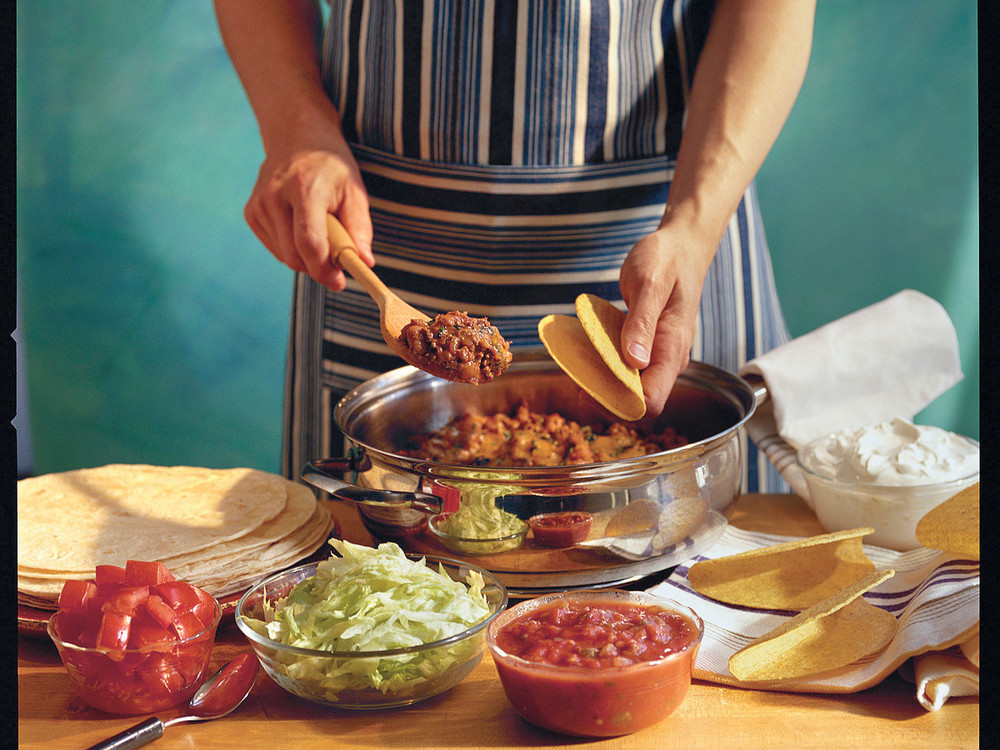 1 pound ground beef
1 small onion, chopped
1 teaspoon olive oil
1 tablespoon chili powder
1-1/2 teaspoons ground cumin
1 teaspoon salt
1 (15-ounce) can pinto beans, rinsed and drained
1 (8-ounce) can tomato sauce
3/4 cup water
1/2 cup salsa
1-1/2 cups (6 ounces) shredded Cheddar cheese
1 tablespoon chopped fresh cilantro
Taco shells or flour tortillas, warmed
Toppings: shredded lettuce, diced tomatoes, salsa, sour cream
Prep. Time → 10 min
Cook Time → 30 min
1. Cook ground beef in a large skillet over medium-high heat, stirring until beef crumbles and is no longer pink. Drain well. Remove beef; wipe skillet with a paper towel.
2. Sauté onion in hot oil in same skillet over medium-high heat. Add chili powder, cumin, salt, and beef. Cook 5 to 7 minutes, stirring occasionally. Stir in beans, tomato sauce, 3/4 cup water, and salsa. Mash pinto beans in skillet with fork, leaving some beans whole. Bring to a boil; reduce heat, and simmer, uncovered, 8 to 10 minutes or until liquid is reduced.
3. Step 3Top evenly with cheese and cilantro. Cover, turn off heat, and let stand 5 minutes or until cheese melts. Serve with taco shells or tortillas and desired toppings.
main courses, beef, ethnic, mexican, taco April 11, 2019 14:33
Author https://southernliving.com/recipe...
Share the recipe with your friends
No one has liked this recipe.
0 comments