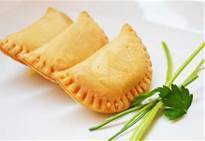 Video
Ingredients
para el sofrito
- Cebolla 1 und
- Pechuga de pollo 100 gr
- huevos 2 und
-Tomate 3 und
- Ajo 2 dientes
- Pimiento 1 und
masa de hojaldre
1. Hacemos un sofrito, con la cebolla, el ajo, el pimiento y el tomate
2. Los huevos los coceremos
3. Lo meteremos al batidor para que se enfrié
4. Cogemos el hojaldre y le damos las vueltas que nos falten y lo dejamos reposar.
5. Lo estiramos y le hacemos como circulo y después dentro le rellenamos con el sofrito y lo cerramos y se queda como forma de empanadilla y lo sellamos con el tenedor.
6. Pintamos la empanadilla con el huevo batido
7. Horneamos a 200 º C unos 20 minutos.
February 23, 2014 11:25
Share the recipe with your friends
No one has liked this recipe.
0 comments