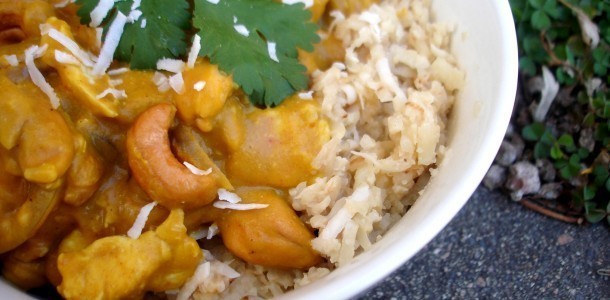 Ingredients
For the curry
1lb chicken, cut into cubes
2 garlic cloves, minced
1 red onion, sliced
⅔ cup canned coconut milk
½ cup pureed pumpkin
½ cup cashews
2-3 tablespoon curry powder
1 tablespoon Gold Label Virgin Coconut Oil
1 teaspoon ground cumin
½ teaspoon cayenne pepper
¼ teaspoon red pepper flakes
pinch of cinnamon
salt and pepper, to taste
cilantro, to garnish
For the coconut rice
1 head cauliflower, stem removed, roughly chopped
⅓ cup canned coconut milk
¼ cup Unsweetended Shredded Coconut
1 tablespoon Gold Label Virgin Coconut Oil
1 teaspoon raw honey
pinch of salt
1. First add your chopped cauliflower to your food processor with the shredding attachment to "rice" the cauliflower.
2. Pull a large pot, place over medium heat, and add a tablespoon of coconut oil then add your cauliflower. Add a pinch of salt, then cover to help steam, mixing occasionally.
3. Now pull out a large skillet and place under medium heat. Then add your coconut oil.
4. Add minced garlic then chicken as soon as the garlic becomes fragrant.
5. Once the chicken begins to become white on all sides, add your ⅔ cup coconut milk and pureed pumpkin to your chicken and mix until the pumpkin breaks down.
6. Now add your sliced onions and spices to cook down.
7. Then add your other ingredients for your coconut rice and cover to cook down. Stir occasionally to make sure it doesn't burn!
8. Let the rice cook for about 5-8 minutes until coconut milk has evaporated and you have sticky rice.
9. When chicken is done cooking and your curry has thickened a bit, remove from heat and add your cashews to the curry mixture.
10. Now place sticky rice in a bowl along with curry over top and cilantro to garnish!
main courses, cashew, chicken, paleo, pumpkin January 07, 2015 22:45