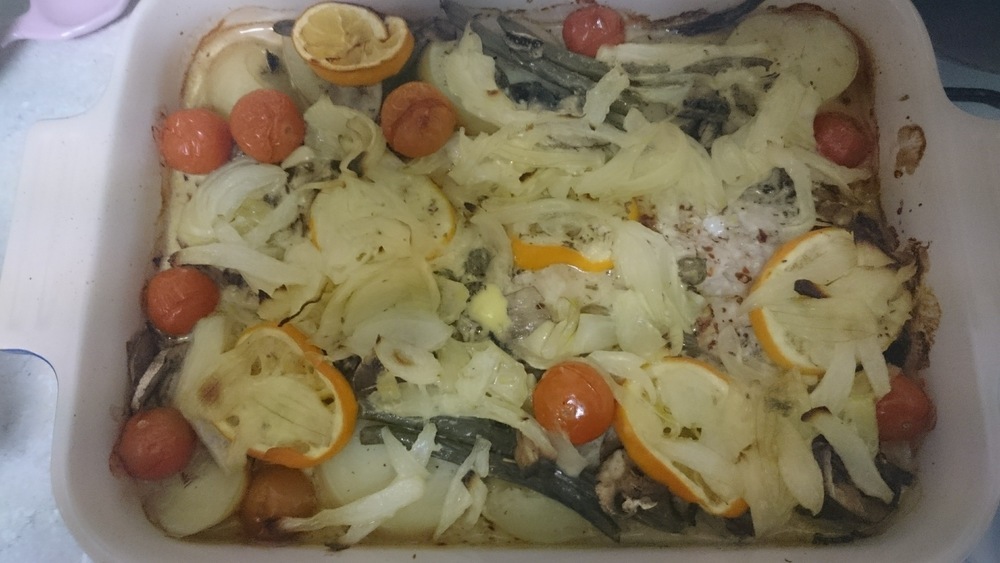 Ingredients
for 2-4 people
Large white fish fillet
Salt and pepper
Small bit of chopped ginger
Whole grain mustard
Capers
One or two lemons
Water
Two large potatoes
Green beans (one large handful)
Handful of sliced mushrooms
10 small tomatoes
Two medium sized onions
Two garlic cloves
Chilli flakes
50g butter
150ml sour cream
Large ceramic baking dish and medium saucepan
Prep. Time → 30 min
Cook Time → 45 min
1. Pre-heat oven to 200 degrees C. Turn on oven before next steps.
2. Place large white fish fillet in baking dish. Salt and pepper the fish on both sides. Put a small bit of ginger, whole grain mustard and capers on the fish. Cut half a lemon into slices and put these on the fish as well.
3. Boil kettle. Cut two medium to large potatoes into slices and cook in a medium saucepan with water from kettle for about 5 to 10 mins with green beans to slightly soften. Do not overcook!
4. Place potato slices and green beans into backing dish around the fish. Add some sliced mushrooms and baby tomatoes into the dish.
5. Use the same saucepan from earlier to brown two medium sliced onions with two garlic cloves roughly sliced and some chili flakes. Then turn down the heat. Add wallop of butter (50g to make it sound more acceptable to the missus), squeeze in the other half of the lemon. Add half a container of sour cream (guessing 150ml). Warm on low heat until butter melted.
6. Then cut second half of squeezed lemon into slices and arrange on baking dish as well (nothing goes to waste!!). Or just cut up a second lemon for more lemon flavor into the whole dish. Add the butter/onion mixture to the baking tray, with the bulk going over the fish and rest onto surrounding bits.
7. If you turned on oven at start (as these instructions indicated), you should be able to add the dish into the oven now and bake for approx 30 mins. If not, you might need a bit longer. But rather just keep an eye on it.
8. Serve on warmed up plates with candles to match the mood.
main courses, butter, capers, chili, fish, lemon October 04, 2017 15:40
Share the recipe with your friends
No one has liked this recipe.
0 comments