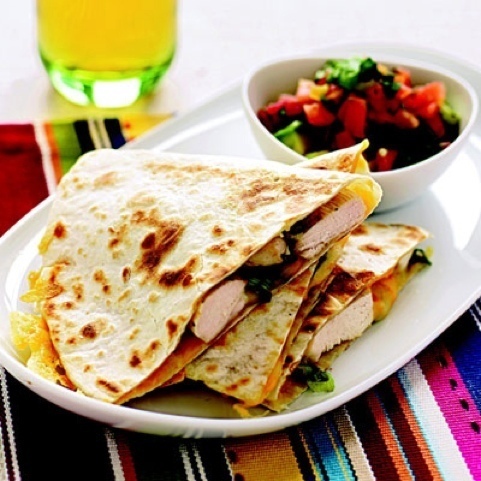 Ingredients
1 large boneless chicken breast
1 large onion, diced
1 TBS unsalted butter, plus a bit more for the saute pan
1 TBS olive oil, plus more for the chicken
salt & pepper
1 15 ounce can of drained black beans
2 handfuls of shredded manchego cheese
handful of freshly chopped cilantro
2 large tortillas
1. Heat grill to medium heat.
2. Rub olive oil and chille lime seasoning on the chicken. We had a rub (from William Sonoma) but you could create your own or use any flavors that you have handy. Grill the chicken about 5 minutes a side.
3. Heat medium saute pan over low heat. Add in olive oil and butter. Season the onions with salt & pepper and saute over low heat for 20 - 25 minutes, until nice and caramelized.
4. Drain black beans, shred manchego cheese, and slice up the grilled chicken. Mix all of the 'filling' ingredients together: chicken, beans, cheese, onions and cilantro.
5. Divide the filling among the two tortillas, just on one side. Fold remaining side over. Put a small amount of butter in a large saute pan over medium heat. Place the filled tortilla in the saute pan to warm, about 4 minutes a side. Cook until the tortilla is lightly browned and a bit crisp.
6. Serve with your favorite guacamole or salsa.
main courses, chicken February 25, 2016 01:43
Author a-life-from-scratch.com/
Share the recipe with your friends
No one has liked this recipe.
0 comments