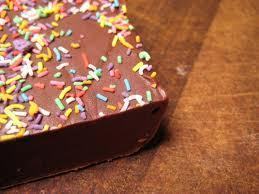 Ingredients
for Roughly 16 squares depending on portion size
400g Dark or Milk Chocolate, broken into pieces
1 cup sweetened condensed milk
60g butter
hundreds and thousands sprinkles
Prep. Time → 10 min
Cook Time → 2 hours refigiration min
1. Put the chocolate, condensed milk and butter into a saucepan over low heat and stir until smooth and glossy.
2. Line a 20cm sqaure tin with aluminium foil and pour the mixture into the tin. Shake hundreds and thousands (the fireworks) over the fudge and refrigirate for 2 hours, or until set.
3. Cut the fudge into small squares to serve or wrap pieces in waxed paper and twist the ends to make a great gift.
desserts, easy, festival food, kids, quick, sweet, cheap, few ingredients, family, fun with kids, gifts November 08, 2011 20:48
Author The Atherton Family