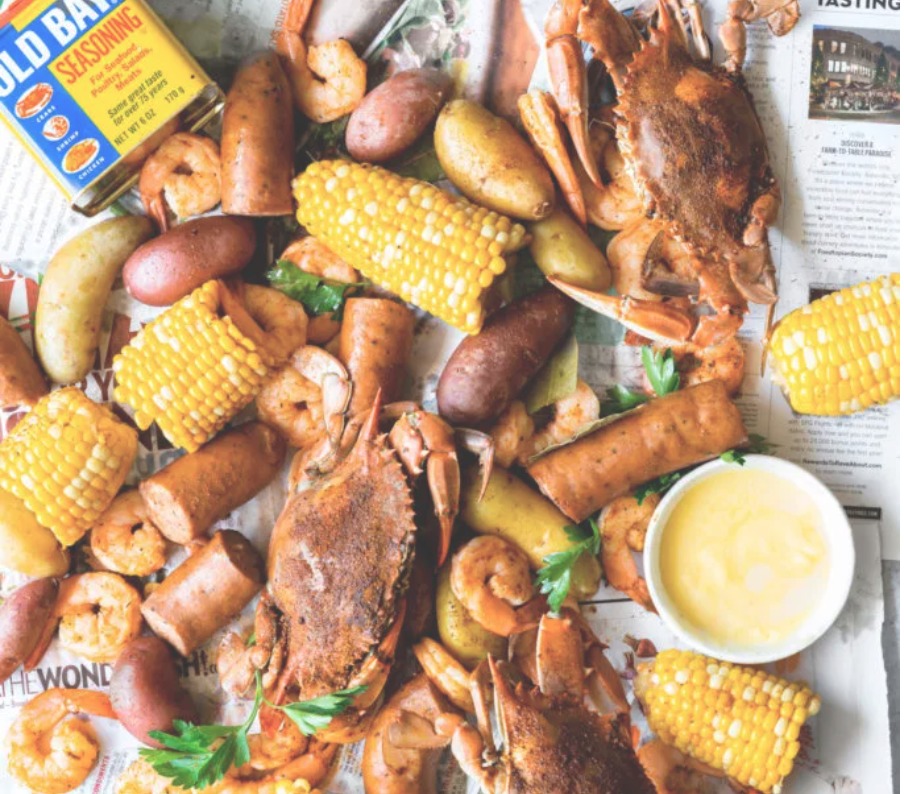 Ingredients
5 (25 ounce) beer cans divided
1 (3 ounce) Zatarain's Crab Boil box
1 (3 ounce) Louisiana Crab Boil box
1 Old Bay Seasoning container plus more if needed
2 fresh bay leaves can go up to 3
3 garlic bulbs cut in half
2 lbs Petite Yukon Gold Potatoes washed and set aside
1 (32 ounce box) of smoked sausage cut into 1 inch diagonal slices.
3 lemons cut in quarters and divided
3 limes cut in quarters and divided
6 ears of fresh corn broken into quarters or you can use frozen cobblers
2 lbs medium to large shrimp
12 cooked Blue Crabs
1/2 cup butter
1 bottle of hot sauce
Prep. Time → 20 min
Cook Time → 30 min
1. Bring a large stockpot (at least 12 quart) of water (6 quarts), 4 ½ cans of beer to a simmer.
2. Add the Zatarain's crab boil bag, and open the Louisiana crab boil bag and empty the contents into the pot. Add ¼ cup of Old Bay seasoning. Add the bay leaves, garlic, potatoes, sausage and half of the lemons and limes. *Season Check Time- Is the broth smoky, salty and spicy? If not add a little more Old Bay. Simmer for 15 minutes until the potatoes are almost soft.
3. Now add the corn, cooking for 10 minutes.
4. Add the shrimp, allowing them to turn pink before turning the stove off. Add your cooked crabs and allow to sit in the liquid for 10-15 minutes.
5. Strain the liquid out of the pot, but keep ½ cup aside for the dipping sauce. You can either put everything on a platter or just spread it out on the table.
6. Melt the stick of butter, Old Bay seasoning to taste, a few dashes of hot sauce, the juice from the other lemons and limes you put aside and the reserved liquid from the pot. Whisk together and pour into the condiment bowls and serve.
main courses, corn, potatoes, sausage, shrimp, one pot October 10, 2020 11:57
Author https://grandbaby-cakes.com/frogmore-...
Share the recipe with your friends
No one has liked this recipe.
0 comments